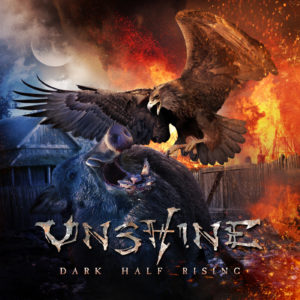 The Finnish Druid/Folk/Gothic Metal band have been a bit quiet in terms of new material over recent years, this being their first release since the excellent "The Enigma Of Immortals" , which surfaced in 2008. The band return though, with all cylinders firing in the form of "Dark Half Rising", their first release with new label Massacre Records, who seem to have an uncanny knack of being able to get the best out of bands.
This album definitely has the feel of a band who have been given a major lift, an album that whilst retaining the core historical elements of  the Unshine ethos, has a much more melodic trait running through the tracks.
Beginning with the almost mandatory short intro track the album soon settles into its groove, driven by  a wonderful mix of strong riffs, haunting vocals and atmospheric string and instrumental sections. The vocal sound of Susanna Vesilahti is beautifully understated and reserved, as gentle and soft as it is commanding, lending a folkish, naturalistic feel to the performance. The guitar work certainly gives the album a hard edge that blends well with the vocal sound as well as being pushed much more to the fore than on the previous album, which is definitely a step in the right direction.
As a complete body of work the songs flow into each other very well but there are some stand out tracks that are worthy of special mention. My personal album favourite would be the epic "Ikuinen Taistelu", a thoroughly captivating composition which clocks in at just a few seconds short of thirteen minutes and is just mesmeric, flitting between spoken word and storytelling sections, great riffs and of course that female vocal delivery, it's a song to lie back and drift away to. "Spellbinder" and "Arduinna" are also good examples of how good Unshine have become.
This is an album that raises the bar in terms of new expectations and potential for the band, demonstrating a real step up in class and is a must for fans of Folk and Female Fronted Metal.
Track Listing;
1. Nadjas Wailing About Coming Of The Frost
2. The Oath To Wilderness Of Unredeemed Nature
3. Arduinna
4. Spellbinder
5. Defender Of His Faith
6. Their Horses Never Touch The Ground
7. Idyl
8. The Blood Of Ardennes
9. Ikuinen Taistelu
10. Bone Fires
11. Ategenos (At The Death Of Winter)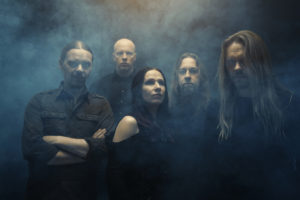 Unshine are;
Susanna Vesilahti – Vocals
Harri Hautala – Guitar and Keyboards
Jari Hautala – Guitar
Teemu Vähäkangas – Bass
Jukka Hantula – Drums
Out now via Massacre Records
https://www.facebook.com/unshinefinland