Luxembourg's very own Fusion Bomb release their debut album 'Concrete Jungle' on 25th January through Iron Shields Records. Formed in 2010 this four-piece Speed Metal unit draw inexplicable similarities to Slayer.
Opening track 'Zest Of Scorn' is four minutes of pure audible onslaught. It fires through verse and chorus like a knife through butter. This is Slayer all over and in parts, it eclipses them. The speed changes midway are just sublime and pound hard with anger. What a stunning opening track.
'Knuckleburger' is another hard hitting track which doesn't relent at all. Speed Metal at it's very best. Hard, fast and heavy. Title track 'Concrete Jungle' slows the pace down a little, just enough to get me thinking the production sound is on the same wavelength as Overkill. There's no formula change, just more of the superb same.
'You're A Cancer To This World' is the hardest hitter on the album so far. There's no time to breathe from the off as this pulsating intro propels so fast you can't but help think how savage this album really is. The chords within the riffs are so busy in each and every track that they tell a story themselves. 'TMNA' edges more towards what I call Power Thrash. Total carnage and speed so insane it's intensity shines through so much it's almost blinding.
As the opening riff to 'Bird Of Prey' hits me I'm finding it difficult to understand how these guys can better every song I hear, but the fact is it's true. Fusion Bomb are excelling themselves by the minute. As explained the formula does not change. Only riffs, speed, and vocals. The only time you have to breathe is the brief pause between tracks.
'Nyctophobia' (which means extreme fear of the dark / night) stomps it's way through it's 5 mins of chaos. Watch out for the 'Mosh Bit' in this track, it will have the floor in utter chaos. Remember M.O.D and S.O.D??? That's the Mosh bits I'm talking about!! Best track by a country mile. 'Slam Tornado's' opening riff is once again a classic Slayer riff and I really don't care because Slayer will soon be no more. But what's promising and welcoming is that there are many new bands out there such as Fusion Bomb that will carry Slayer's memory for years to come.
We finish with 'I Never Denied', which is an 'Excel' cover version. I'm not a big fan at all of bands doing cover songs on their albums. Live, yes, albums, no. But in Fusion Bomb's defence it's a great cover and a great choice.
Let's recap. Buy it.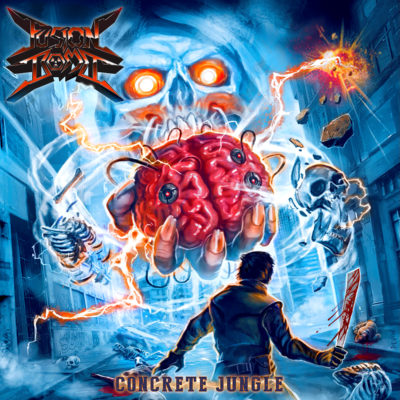 Track Listing:
1 – Zest Of Scorn
2 – Knuckleburger
3 – Concrete Jungle
4 – You're A Cancer To This World
5 – Blazing Heat
6 – TMNA
7 – Bird Of Prey
8 – Nyctophobia
9 – Slam Tornado
10 – I Never Denied
Line-up:
Michel Nippel (Bass/Vocals) – Miguel Texasranger (Guitar/Vocs) – Luc Lanthaloid (Guitars) – Scott Thrash (Drums)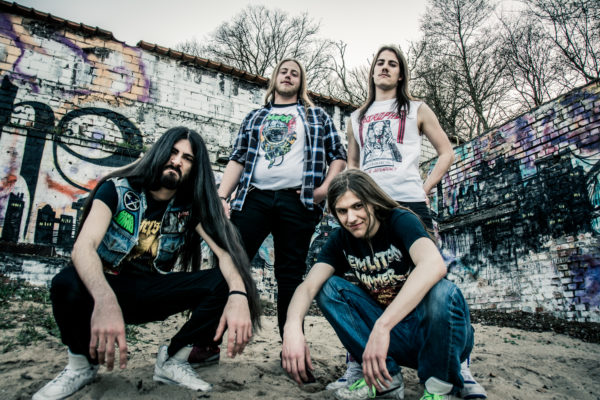 Links:
A stunning debut album from what I'm sure will become Luxembourg's finest. Slayer's little brother!!!