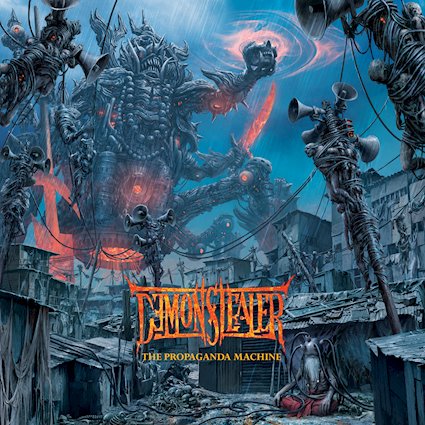 Welcome back Demonstealer AKA Sahil Makhija, the quietly spoken creator of Demonic Resurrection but it's Demonstealer we are talking about as he will release his latest studio album The Propaganda Machine via Black Lion Records on March 31st 2023.
Dubbed as technical symphonic death metal, these eight tracks are overwhelming to say the least, point proven by opener 'The Fear Campaign' as seven skin flaying minutes of over the top death metal with symphonic touches try and do their best to keep afloat against insane kick drums right from the off. It's an aurally terrifying battery but all hope is lost when the molten metal riffs and guttural vocals arrive.
A NWOBHM tinged main riff opens 'Monolith Of Hate' with superhuman strength as hellish spawned vocals are exorcised by more drum assaults of superhuman power and precision. Vocals are almost chanted alongside lung stripping lines and the lightspeed outro is mind boggling!
'The Propaganda Machine' tears up the metal rulebook, literally breaking the speed limit from the off as speed metal is spewed out with glee to cross the finish line for a close victory before drum destruction arrives, offset by a soothing vocal that are at odds with the guttural barks.
'The Art Of Disinformation' is a brain mangling maul due to warp speed rhythms towards a tour around the drumkit to test its metal mettle. Once again vocals are growled and clean for maximum effect until it closes on raging guitar solos and one final brutal assault.
'Screams Of Those Dying' is an almighty blast beated headbanger to test the strongest of neck muscles and also the lungs as vocals are thrown up on a devillish dirge, especially during the caustic midsection.
Just when you thought the album could not get any more intense up comes 'The Great Dictator' for five pit opening minutes to test the bravery of any who dare enter it. Drums are once again not of this planet, especially from the blink and you'll miss the insane drum fills.
'The Anti-National' is a cranial clubber that batters anything that dares stand in its path to deliver a sermon that must be obeyed at all costs!
Final track 'Crushing The Iron Fist' is one last chance to destroy our hearing as it lives up to its title for armageddon like destructive potency. Rare moments of calm come from the clean vocals but doesn't deter from the ensuing madness as it stampedes towards a vicious outro.
Pre-order links to the album and other band info are here : – I https://snd.click/propaganda I https://www.facebook.com/DemonstealerOfficial Ihttps://music.apple.com/us/artist/demonstealer/594767634 Ihttps://demonstealerblacklion.bandcamp.com/merch?fbclid
The Propaganda Machine album track listing :-
The Fear Campaign.
Monolith Of Hate.
The Propaganda Machine.
The Art Of Disinformation.
Screams Of Those Dying.
The Great Dictator.
The Anti-National.
Crushing The Iron Fist.
Album personnel :-
Sahil Makhija – Vocals/Guitar.
Drummers :-
Hannes Grossman/James Payne/Ken Bedene/Sebastian Lanser.
Keyboards : –
Anabelle Iratni.
Bass Guitar :-
Dominic 'Forest' Lapointe/Stian Gundersen/Martino Garattoni/Kilian Duarte.
Lead Guitar :-
Alex Baillie/Dean Paul Arnold/Sanjay Kumar.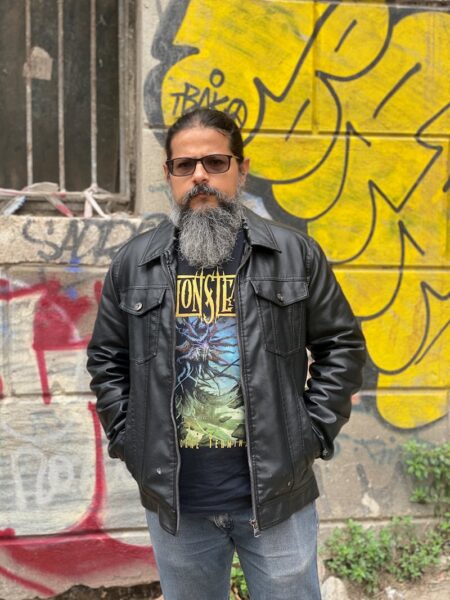 As well as being Demonstealer, Sahil Makhija formed Demonic Resurrection in 2000, one of India's best known and biggest metal band. In the same year he established India's first recording studio dedicated solely to metal. In 2005 he launched Demonstealer Records, India's first metal record label and also originator of the World's first heavy metal cooking show, Headbanger's Kitchen!
Sahil Makhija returns as the Demonstealer for brand new studio album, the crushing The Propaganda Machine!