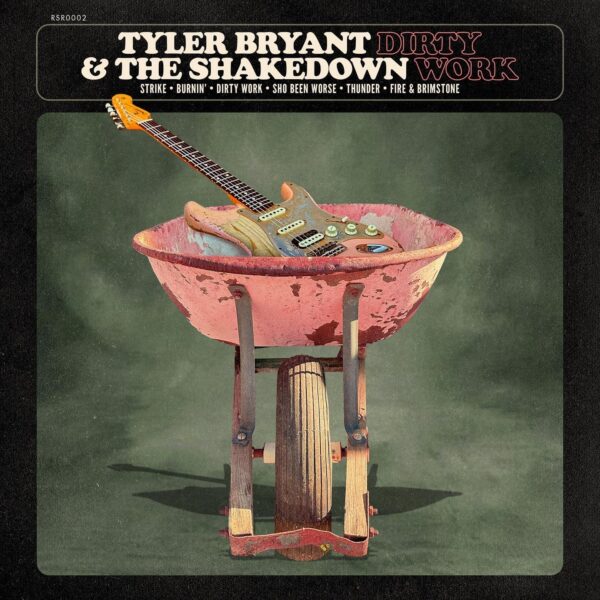 Nashville, Tennessee based Tyler Bryant & And The Shakedown unleash their brand new Dirty Work EP via Rattle Shake Records, made up of six shimmering songs that will leave you breathless!
As it's self produced these tunes are as raw as you want it which makes for a very rewarding listen, point proven by the short but sweet 'Strike', a one minute long jawdropping instrumental of fretboard frenzy.
'Burnin' has a slow but sure groove that plods along on an insistent drum beat, drawled vocals and an earworm main riff that picks up the pace midway for a tantalizing toe tapper until it returns to its metronomic pound, ending on yet more guitar heroics.
'Dirty Work' is a sassy but also classy country tinged heartbreaking ballad that's finger pickin good, made even more beautiful from a laid back backing vocal from Rebecca Lovell, Tyler's wife.
'Sho Been Worse', first single taken from the Dirty Work EP has hooks catchier than an STD, the dual guitar line up is a force of nature and the rhythm section is no slouch either that pins down a gnarly but strangely soothing lead vocal and nirvana is reached when the solos burst into life.
'Thunder' is a dirt under the fingernails blues masterpiece as Tylers notes seem to be plucked from heaven, not just his guitar neck and a monotone vocal adds to the moroseness.
Final track 'Fire And Brimstone' is a six minute epic to end all epics as it trudges along akin to walking through thick mud. Vocals are hotter than hell and its Godzilla like stomps propel it slowly over the finish line on string bending wah-wah for all the air guitarists out there!
Purchase links to the Dirty Work EP and other band info are here :- http://tylerbryantandtheshakedown.com I https://www.facebook.com/TylerBryantAndTheShakedown I https://www.instagram.com/tbshakedown/ I https://twitter.com/tbshakedown I https://www.youtube.com/results?search_query=tyler+bryant+and+the+shakedown+
Dirty Work EP tracklist :-
Strike.
Burnin.
Dirty Work.
Sho Been Worse.
Thunder.
Fire And Brimstone.
Tyler Bryant & The Shakedown band personnel :-
Tyler Bryant – Lead Vocals/Guitar/Bass Guitar/Additional Programming.
Graham Whitford – Guitar/Backing Vocals.
Caleb Crosby – Drums/Percussion/Backing Vocals.
Backing vocals on 'Dirty Work' by Rebecca Lovell.
Get down and dirty with the latest EP Down And Dirty from Tyler Bryant & The Shakedown.