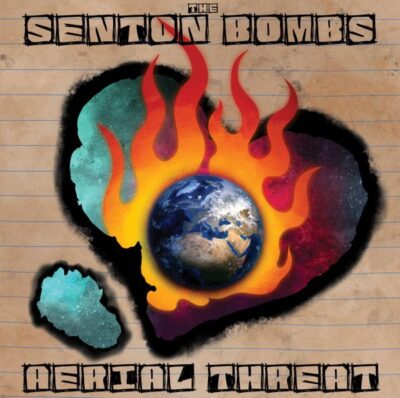 So 2021 brings us new hope and some of it comes from Blackpool bawlers The Senton Bombs with Aerial Threat, their sixth studio album released on March 27th via Regolith Records.
The title could be to do with their "bombs bombs bombs away" catchphrase or even the dangers of washing powder. You never know with this lot! Prior to the album release they have built up momentum by releasing 5 singles from it and the the finished article consists of another 9!
Album opener 'Blue Sunset' is driven by body blow punches of kick drums from Scott Mason as the abrasive riffing from Johnny Gibbons and Damien Kage power away and it's left to Joey Class to add a soothing lead vocal to add a touch of menace until it beefs up to a full on wah-wah guitar outro.
'Be What You Want' is basically a powerful message of being true to yoursel that is reflected in the verses and really hammered home in the choruses. Tribal drum patterns and driving riffs give it a melodic punk vibe until Johnny lets rip with another dose of wah-wah.
Wrist snapping snare work lights the short fuse for the rabble rousing rage of 'Another Way' that doffs its cap to Motorhead by its plug in and batter it out with no frills.
'Sleep Street' is a catchy but still caustic rant that bounces along like Tigger on amyl nitrate as a curveball comes from a country and western twanged solo.
'High School Low' shows that punks not dead by its ferocity and the quick witted lyrics perfectly portray what we all went through back in the day.
Try to imagine a more mental 'Jesus Built My Hotrod' by Ministry for 'Dwelling In The Past' and your halfway there to headbanging like a loon!
'Sin On My Mind' has Dick Dale like chiming guitar chords weaving around an angelic vocal that is offset by the potent choruses.
They get some dirt under their fingernails during 'Cheats Prosper' as they deliver an aurally gruelling (in a good way) three minutes of devilish rhythms topped off by a psychotic vocal.
'Rise Of The Underdogs' is a clarion call to arms that fits in with the current state that we're in. It rallies along on a wall of blustering grooves and chest beating "all hail" backing vocals.
'Storm The Castle' is a belligerent bare knuckled bruiser pummeled out as raw as they can possibly get whilst bashing it out with full force. It's another one for the headbangers!
'English Dreams' is the most quirky song here. Brow furroughing verses are spat out through clenched teeth as moments of calm come from the sugar sweet choruses.
Think of Tom Petty rocking out and you're not far wrong for 'Satellite' that sees the band cranking up the volume and a stunning guitar piece midway is nothing short of tear jerking.
'Lake' is a beautiful number that strolls along the beach on hypnotic guitar lines and a crooned vocal strangely brough to mind Roy Orbison.
This eclectic album closes on a very personal song as Joey wrote 'Coaster' for his children to give them a message of hope for their future, point proven by the chorus of "don't drink the ocean, don't smoke the sky, don't waste your days being afraid to die. Try not to worry, try not to care, enjoy the coaster at this fair". It's lyrically and musically heavy as the hefty riffing hit as hard as the snare drums.
Links to the band including a preorder link to the album are here :- https://www.facebook.com/thesentonbombs …………http://www.sentonbombs.com/ …………https://sentonbombs.com/store
Aerial Threat album track listing :-
Blue Sunset.
Be What You Want.
Another Way.
Sleep Street.
High School Low.
Dwelling In The Past.
Sin On My Mind.
Cheats Prosper.
Rise Of The Underdogs.
Storm The Castle.
English Dreams.
Satellite.
Lake.
Coaster.
The Senton Bombs band line up :-
Joey Class – Lead Vocals/Bass Guitar.
Damien Kage – Guitar/ Backing Vocals.
Johnny Gibbons – Guitar/Backing Vocals.
Scott Mason – Drums.
One more than a bakers dozen makes for a compelling album that does not overstay its welcome.