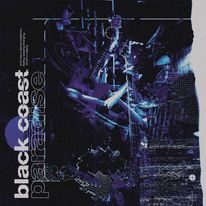 A double celebration is on the menu here for Stoke On Trent based metal monsters Black Coast as they release their latest single 'Paradise' and sign up with Blood Blast Distribution Nuclear Blast.
This raging song is a bonafide skull crusher. They are not reinventing the wheel here but theirs are monster truck size to test the mettle metal of the listener. A minute long fuse is lit by a creepily ambient, skin crawling laid back lead vocal, backed by spacey riffing and snare drums.
Cue the madness as it goes off the richter scale on a cathartic journey of hypnotic vocals backed by a gruelling bass guitar heavy pound. This abstract monster of a song ends by picking you up by the scruff of the neck on an early Entombed like shroud of grind and drops you off to the seven gates of Hell at the end of the suffocating outro!
Links to the band can be found here :- https://www.facebook.com/blackcoastuk …………http://www.blackcoastuk.bigcartel.com/ ……………https://backl.ink/144066860
Black Coast band line up :-
Charlie Hewitt – Lead Vocals.
Joe Mayer – Guitar.
Scott Pinnington – Guitar.
Jack Beardsall – Bass Guitar.
Matty Clarke – Drums.
On the strength of this song their future is crystal clear and not black.