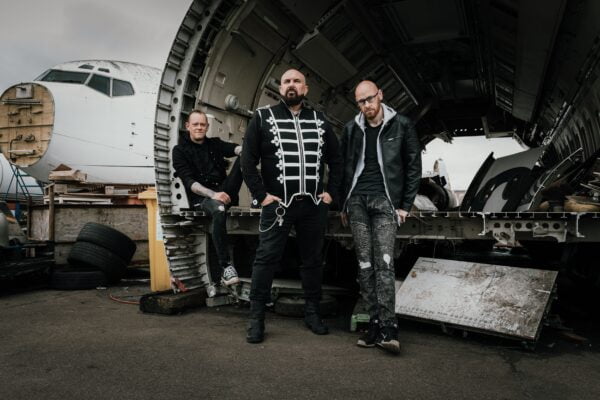 To say that The Autumn Killers have changed their musical direction is an understatement. The last time I caught them at a gig they were kicking out the jams at a Rockwich festival but now they have incorporated samples into their arsenal and to these ears it's worked. Already released via Skyfire Records the Darkside album has 12 cuts of innovative music.
The new style starts right from the off as 'Rise' is chock full of futuristic samples to make for a welcome earworm that add textures to the hefty main guitar riff and laid back vocals from Rob Reece add a touch of menace.
A rampant opening riff to 'Do You Want It' adds muscle to the dance beats. Think of early Ministry and your almost there and an emotional rush comes from the infectious choruses.
'One of 5' is an early highlight as skittering samples weave around the main riff, bass guitar throb and the climactic choruses are a force of nature.
Laid back snare drums provide a foil for the melodic verses throughout 'Numbers' that head into guitar heavy choruses that Rob belts out full force.
Gritty hard rock comes from 'Spin The Wheels' as a grinding riff shares the plaudits with the technological wizardry flying around my headphones and for good measure a tasty guitar solo is thrown into the pot.
Symphonic metal comes from 'Let It Out' at its most grandiose as it swells on swathes of techno beats over a spotlight stealing lead vocal.
Heavy bass lines in 'Mother Of The Monkeys' put the needle in the red zone as Rob croons over soothing keys until the shout it loud and proud choruses raise the roof towards a headbanging outro.
'Social Animals' bounces along on feel good funky grooves and wiry guitar lines until it heads off into prog rock territory midway until the guitars take over.
'Stand Up' surges in a wave of keyboards, boisterous bass guitar towards another tune of uplifting choruses and it turns on its head for a crooned piano lead midsection that could be used in a film score.
'Steal My Sunlight' wears its Rammstein influences on their sleeves for some crushing industrial grooves.
'On The Outside' is probably the most commercial song here but that's no bad thing as it has more hooks than a fishing tackle shop, especially in the bright and breezy choruses but that main riff is never far away.
The album closes on the title track as trippy samples are not twee but razor sharp to stand tall with the big guitar riffs and snappy snare drums.
Link to the band :- https://www.facebook.com/theautumnkillers I http://www.theautumnkillers.uk/ I https://music.apple.com/…/do-you-want-it/1592680903… I https://open.spotify.com/album/5UlnudA7eagLumn507YgD9… I https://www.youtube.com/channel/UCu0cgE2NCQ4Wuazn4fot00g Ihttps://frontl.ink/gedqdq1?fbclid=IwAR1g0wrscvKkg7mOib-ytmVYG-OoKjc10yOWBodQusL46ScXWGJzsHfyVf4
The Autumn Killers band line up :-
Rob Reece – Lead Vocals/Bass Guitar/Piano.
Duncan Richardson – Guitar/Backing Vocals/Keyboards.
Graeme Hoy – Drums/Percussion.
Darkside album track listing :-
Rise.
Do You Want It.
One Of 5.
Numbers.
Spin The Wheels.
Let It Out.
Mother Of The Monkeys.
Social Animals.
Stand Up.
Steal My Sunlight.
On The Outside.
Darkside.
Come over to the darkside with The Autumn Killers!