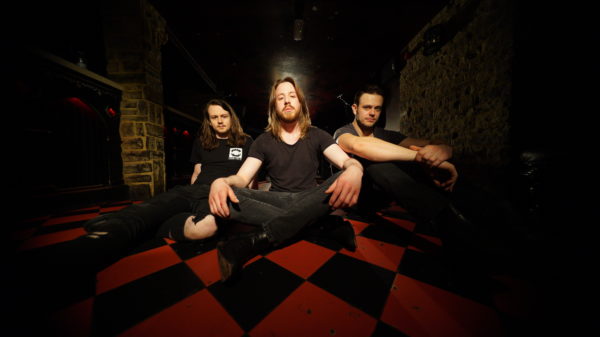 Crooked Shapes, a new band to me from Reading have just released their self titled, self produced debut album and they've done a fine job with both. I love reviewing three piece bands, point proven by opening track 'Fire'. It packs a punch with knockout blows in the lowdown and dirty grooves and when they all lock in, it's a joy to listen to. It ends on snappy snare work and a wah-wah drenched guitar solo.
A quirky intro of laid back guitar and drums for 'Leave Me For Dead' sees it hit its stride towards a heavy blues heartbreaker that bursts into life for full throttle choruses and it ends on a howled vocal and full on guitar freak out.
The crunching main riff to 'Appetite' hits hard and heavy to serve up a feast of feisty moods and a vocal of sublime melodies.
'Crooked Shapes' is a five minute instrumental blast of stoner rock bringing back memories of early Kyuss. The power they summon up here is nothing short of breathtaking as it resonated through my headphones.
Sledgehammer blow dynamics drive 'Chains In My Mind' along that ease back midway to leave room for a soul searching vocal tour de force.
An earworm intro riff for 'Fallout' grabs you from the off as off kilter drum patterns and hefty bass guitar go through the gears for a headbanging outro.
A lung busting lead vocal steals the spotlight throughout 'Rise Again' as a choppy main riff comes a close second.
Bass guitar belligerence shakes the foundations of 'Fly' to make it the heaviest song on the album and the choruses are majestic.
'Don't Look Back' is a strong song to end this highly impressive debut. It's so quiet in the verses that you could almost hear a pin drop until they muscle up for the choruses. A jabbing midsection and brief guitar solo light the fuse for a drum driven, fretboard melting guitar solo.
Crooked Shapes band links :- https://linktr.ee/crookedshapes?fbclid=IwAR19b8X2S-ROcO0llFr8uH_WqqHFmcUuN6cklX3SMgm_jNHxeFAKt8k2e0Y
Crooked Shapes band line up :-
George Twydell – Guitar/Lead Vocals.
George 'Ivey' Ives – Bass Guitar/Backing Vocals.
Craig Carlaw – Drums/Backing Vocals.
Crooked Shapes album track listing :-
Fire.
Leave Me For Dead.
Appetite.
Crooked Shapes.
Chains In My Mind.
Fallout.
Rise Again.
Fly.
Don't Look Back.
No crooked shapes here, just a perfect symmetry of nine hard rock songs.