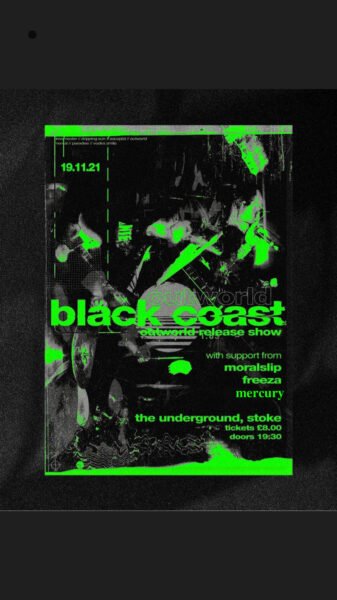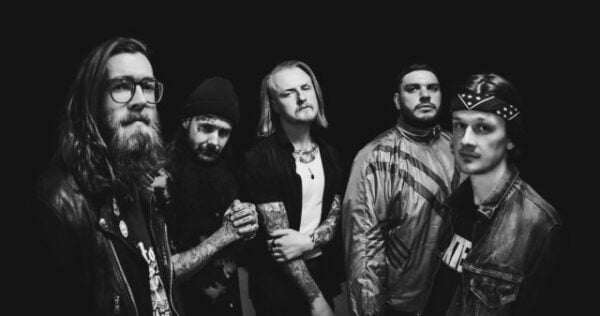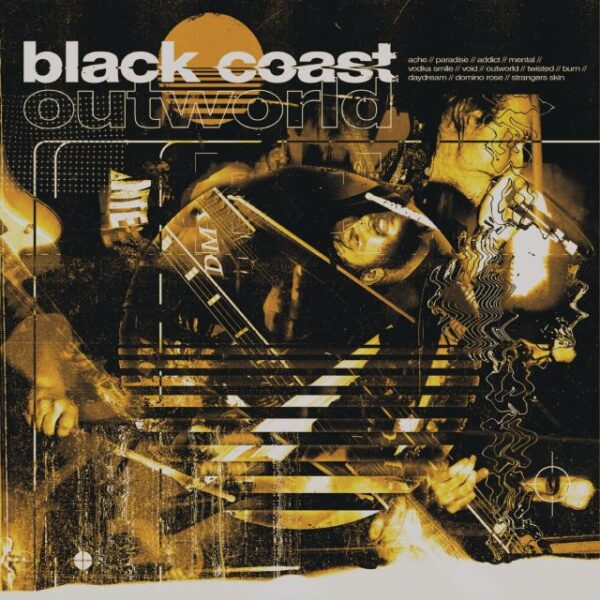 So Girls Aloud know about 'The Sound Of The Underground'? I don't think so after attending the Black Coast album Outworld launch just over a week ago and I wonder if the foundations of the Underground venue in Stoke are still above ground due to the metal maelstrom unleashed by the 4 bands that played.
From over 40 years of going to gigs I've always stuck to my guns of watching the support bands and not having a beer somewhere else etc until the headline band play, to show some respect and don't forget that this is how the headline bands started out! Expectations were high from me to hear the songs from the album blasted out live and the event was bitter/sweet due to the passing of local lad Edward Burrows and profits from ticket sales are going towards a GOFUNDME to help out with funeral costs etc.
Opening band Moralslip who smashed out a seismic set of crushing brutality bringing to mind early Godflesh opened up early pits from the near full venue.
Next up were the adrenaline fuelled Freeza fronted by the dreadlocked Oli who covered every inch of the stage to be a photographers nightmare. Their funk fuelled hardcore raging set defrosted the coldest of fans and Oli closed their set with a potential bone breaking leap from the p.a system into a sea of awaiting hands.
Last up were Mercury and their stellar set headed up to the stratosphere with the rage of early Will Haven crossed with the ambient side of Deftones.
So it was time for the headliners to lay waste to the crowd before them and front of stage for me was essential to bask in the music from one of my album highlights of 2021. Choice cuts from this behemoth of a set included the short sharp shock of opener 'Burn' as frontman Charlie Hewitt tested his vocal chords and lung capacity with a caustic delivery. There was no pause for breath as they tore into the aptly titled 'Mental' with a refrain of "Stop living it up when you're not living enough. Stop living it up when you don't give a fuck. Stop living it up when you're not living it up. Stop living it". This hate fuelled rant was pinned down by bass guitar grooves from Jack Beardsall, a twisting twin axe attack from Joe Mayer and Scott Pinnington and rib rattling drum ferocity from Matty Clark. It was time for me to stop taking notes and get some headbanging done until they ended on my album and set favourite 'Ache', doing my best to roar out the chorus back to the band of "And we ache, calling to the shadows, embracing all the chaos".
Being the day of the album launch, CD's and other merch were on sale on the night and on our way out saw a lot of bodies around that area so job well done!
Band links to Moralslip :- https://www.facebook.com/moralslip I
Band links to Freeza :- https://www.facebook.com/freezaworldwide I
Links to the GOFUNDME for Edward Burrows :- https://www.gofundme.com/f/help-support-family-and-friends-of-edward-burrows?sharetype=teams&member=15362653&pc=fb_co I
Black Coast band links :- https://www.facebook.com/blackcoastuk I https://blackcoastuk.bigcartel.com /I https://open.spotify.com/album/7uQp2UMxvw1fPo8hYH3rLo… I https://linktr.ee/Blackcoaststoke? I https://www.youtube.com/channel/UCLf-TsGVw8-1wZ2K_muqVmw