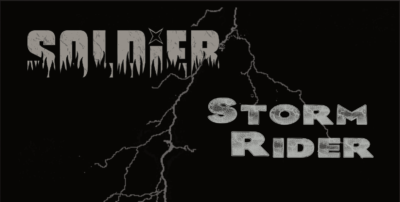 It's been a bit quiet on the Soldier front since the release of the Defiant album in 2015 but they are back with all guns blazing for new EP Storm Rider. Founded way back in 1979 by Ian Dick, this three track EP released on Starhaven Records sees them battling on with aplomb.
Opening up with the title track, it's all high energy riffing and catchy hooks that grab you from the off. A melodically powerful vocal from Richard Frost leads to a full on blustering musical outro. Those earworm riffs come to the fore once again for 'R.N.R' as the lyrics portray a life on the musical road through the eyes of the performer, especially during the big choruses. They save their big hitter till the end as they go over the top with 'Little Big Horn' as the rhythms here capture the vibe of that famous battle in 1876, famously known as Custers last stand. The captivating lyrics put you in the front line during this six minute call to arms opus!
Soldier band line up :-
Ian Dick – Guitar.
Miles Goodman – Guitar.
Steve Barlow – Bass guitar.
Tim Churchman – Drums.
Richard Frost – Vocals.
Soldier parade their latest EP Storm Rider with an arsenal of three songs.