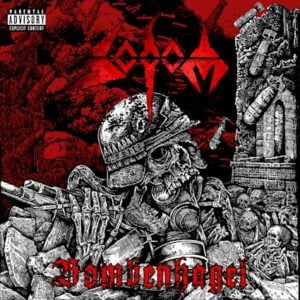 Defying trends since forming in Gelsenkirchen, Germany in 1981, Sodom are not just still flying the flag for Teutonic thrash metal, they are flying it from the highest flagpole! This is proven by the release today of a raging three track EP titled Bombenhagel on Steamhammer/SPV Records.
It kicks off with the title track 'Bombenhagel' which translates to hail of bombs. It's a re-recorded version from their 1987 studio album Persecution Mania. It flies along with three caustic verses with choruses and guitar maelstrom after each one for six fast and furious minutes. Original line up member Tom Angelripper batters his bass guitar into submission whilst delivering his trademark glass gargled lead vocal. The guitar pieces are devastating! The first is catchy but still all razor sharp solos, the second is all feedback frenzy, the third is midpaced thrash with elements of the German national anthem and this is all pinned down by some wrist snapping snare drum work from Toni Merkel.
'Coup De Grace' is the first of two brand new tracks. It's an overwhelming number that jabs, uppercuts and body blows with bombastic belligerency as Tom's lyrics warn of the future of our planet from climate change, environmental problems and wars.
Final track 'Pestiferous Posse' sees the guitars of Yorck Segatz and Frank Blackfire take on a doom edge in tone but not in speed as they fire out a cavalcade of brain mangling thrash. The song subject is based on the famous gunfight in the American wild west at the O.K Corral, Tombstone, Arizona in October 1988 between Wyatt, Morgan, Virgil Earp, Doc Halliday and local cattle, horse rustlers and outlaws.
2022 will herald the 40th anniversary of Sodom and the EP is available on CD, twelve inch vinyl and digital download. Purchase links to Bombenhagel and band info can be found here :- http://linktr.ee/Sodom_Band I https://www.facebook.com/sodomized I https://www.youtube.com/results?search_query=SODOM+ I https://amazon.co.uk/Bombenhagel-Sodom/dp/B095JC5KGB/?tag=plane09-21
A masterclass of thrash metal is unleashed by German legends Sodom.