Ferocious Dog brand new single Broken Soldier sees the band teaming up with Combat Stress, highlighting mental health issues & dealing with the trauma of PTSD from their forthcoming album 'The Hope' October 15th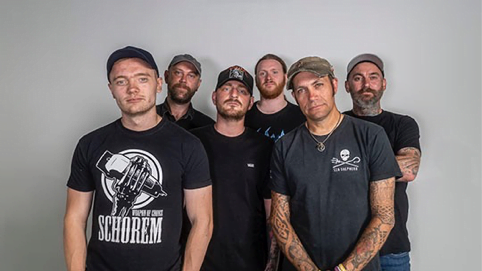 Ferocious Dog release the moving single Broken Solider the second single from their forthcoming new album The Hope, which is released on 15th October, on Graphite Records.

With the release of Broken Solider, Ferocious Dog want to raise money and awareness for Combat Stress, the UK's leading charity for veterans' mental health. For over a century, Combat Stress have helped former servicemen and women with mental health problems, such as post-traumatic stress disorder (PTSD), anxiety and depression. 

Ferocious Dog are asking people to donate where they can to www.combatstress.org.uk to help our veterans. They'll be donating £5000 from the Lee Bonsall Memorial Fund.

"Having worked closely with Combat Stress for many years since the loss of our son Lee and setting up the Lee Bonsall Memorial fund to raise awareness of PTSD. Our aim with the "Broken Soldier" song and video is to raise more awareness around  veterans suffering from PTSD and hopefully help them to reach out to Combat Stress for help. After losing Lee and setting up his Memorial Fund, our ambition was that if we could save one veteran or family from going through the pain and heartache we suffered, then we would have achieved our goal." – Ken Bonsall.
 "On behalf of Combat Stress and the veterans that seek our unique and vital help we would like to say thank you to Ken and Karen, their family and friends, the band Ferocious Dog and the Lee Bonsall Memorial Fund. Their incredibly generous support over the last 6 years will have helped many, many veterans struggling with mental health problems. We very much hope that 'Broken Soldier' is a huge success and the awareness generated will encourage other veterans to seek help and not suffer in silence and that it's ok not to be ok." – Robert Marsh Director of Fundraising, Combat Stress.

The Broken Soldier lyrics were written by Ken's good friend Andrew Hawkins, who knew Lee, and Ferocious Dog hope this song and video will help veterans suffering from PTSD to come forward and get the help they need
Watch the powerful and poignant video for Broken Solider here: 

To stream/download Broken Soldier https://ffm.to/brokensoldier | https://ffm.to/thehope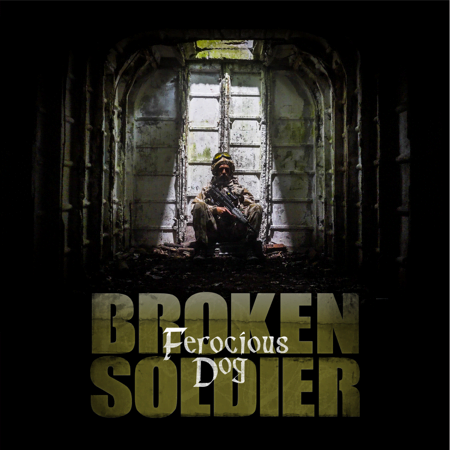 Ferocious Dog is also delighted to share an update on their forthcoming new album The Hope, including the full tracklist.

'I'd say that Ferocious Dog is a different animal on the recording of the Hope album. I think that we have perfected our skills of producing a masterpiece of an album.  Maturity runs through this album from start to finish and attention to detail is evident in the production. We have released four great albums over the years of being a stand-alone, unsigned band and we have pulled out all the stops having now signed to Graphite Records. This album ticks all the boxes.' – Red Ken (Ken Bonsall)

"This album has been like no other Ferocious Dog album. Covid inadvertently allowed us the time and creativity to not only write the album but to spend more time on recording it than we've ever had before. This, along with signing our first record deal with Graphite Records, has allowed "The Hope" to reach it's full potential and we just can't wait to release it to the world" – Dan Booth

The Hope's includes the ever-present traditional cover, this time, with Hazel O'Connor for Will You. Along with the recent single, the album flows irresistibly through tales of historical observations to biting commentary on the plights facing the world today.  The songs follow a rollercoaster of pace and sentiment which will have you wanting to mosh one moment before having a moment to contemplate.
A great follow-up to the album Fake News & Propaganda – Ferocious Dog seems to have the knack of evolving their sound enough to pique your interest, without losing any of the sound or attitude that made you fall in love with them in the first place.  Once they're allowed out to play again they've given themselves a real headache in trying to pick a setlist from their now burgeoning back catalogue

The Hope vinyl and standard CD tracklist:
01 Port Isaac. 02 Haul Away Joe.03 Pentrich Rising. 04 Victims.05 Broken Soldier 06 The Hope.07 Exiled Life (The Chase).08 Khatyn.09 1914.10 Born Under Punches.11 Punk Police.12 Slayed Traveller.13 Parting Glass.Digital album and deluxe digipack CD bonus track 14 Sea Shepherd.15 Will You. (featuring Hazel O'Connor)Digital album only bonus tracks 16 Mairi's Wedding pt.4.17 1914 (Reprise)
Pre-order / pre-save The Hope go to: https://ffm.to/thehope

To celebrate the release of The Hope: Ferocious Dog's undertake a 24 date tour starting in Liverpool at the O2 Academy 2 on Friday 8th October and concluding at the Leadmill in Sheffield on Sunday 4th December. The dates include a Rough Trade 'outstore' show at the Old Cold Store in Nottingham on Monday 18th October, this show was added as the Rough Trade instore show on 14th October sold out.

The band promise those attending "will be part of something very special, watching one of the very best Folk Punk bands in the UK with a high octane explosion of the very best live music.  People who have attended Ferocious Dog shows know exactly what to expect. People who are new to Ferocious Dogs live shows will be welcomed by the "Hell Hounds" as part of the growing Ferocious Dogs family."
The Hope carries on in the strong tradition of Ferocious Dog albums, with thought-provoking and politically charged lyrics, seamlessly combining with dynamic and eclectic music. 

The Hope album is available to pre-order in usual CD and vinyl, with ticket and T-Shirt bundles available, plus an exclusive limited-edition green vinyl album, limited edition cassette and signed CDs here: https://thehope.ferociousdog.co.uk/
UK 2021 tour dates in full:

October
Fri 8th O2 Academy 2 Liverpool
Sat 9th Marine Hall Fleetwood
Fri 15th Old Fire Station Bournemouth
Sat 16th Chalk Brighton
Sun 17th The Venue Derby
Mon 18th Old Cold Store Nottingham
Tue 19th Nightrain Bradford
Wed 20th O2 Academy 3 Manchester
Thu 21st Nell's London
Fri 22nd O2 Academy 2 Oxford
Sat 23rd Waterfront Norwich
Thu 28th The Globe Cardiff
Fri 29th O2 Academy Leicester
Sat 30th Esquires Bedford

November
Fri 5th O2 Academy 2 Newcastle
Sat 6th La Belle Angele Edinburgh
Fri 12th Ropetackle Arts Shoreham-On Sea
Sat 13th The Forum Tunbridge Wells
Thu 18th Cheese & Grain Frome
Sat 20th Exeter Phoenix Exeter
Sun 21st Guildhall Gloucester
Fri 26th KK's Steel Mill Wolverhampton
Sat 27th Picturedome Holmfirth

December
Sat 4th Leadmill Sheffield
Please note for these rescheduled dates, original tickets remain valid.

Tickets available from: https://thehope.ferociousdog.co.uk/tickets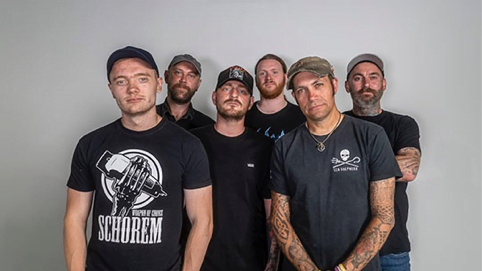 Ferocious Dog is:
Ken Bonsall – Lead singer & acoustic guitar.
Dan Booth – Violin & lead vocals on some songs.
Johnny Edwards – Multi-instrumentalist.
Ryan Brooks – Guitar
John Alexander – Bassist
Alex Smith – Drummer


"English working-class Celtic-folk punk, The Levellers meets Billy Bragg meets The Pogues. As authentic as feck." – Shite'n'Onions USA

"As someone who has played with The Levellers, Oysterband and Wonder Stuff… Ferocious Dog are carrying on the tradition of folk-rock the way it was meant to be done."– Dan Donnelly (The Wonder Stuff)