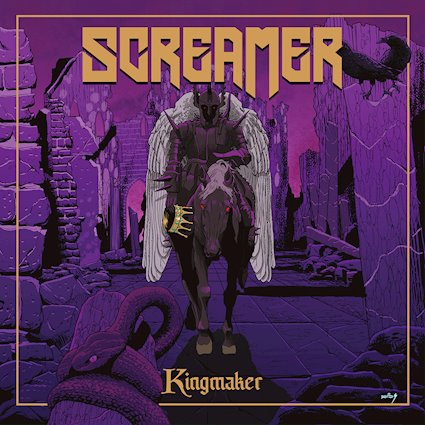 Screamer, a new band to me formed in Ljungby, Sweden in 2009 are making all the right noises as they release their fifth studio album Kingmaker on January 13th 2023 via Steamhammer/SPV Records.
These ten tinnitus causing tracks kick off with 'Kingmaker' with a riff that could move mountains with ease due from being heavy metal at its most volatile. A lung busting lead vocal in the battle cry choruses herald a guitar overload outro.
'Rise Above' brings back the heady days of NWOBHM(New Wave Of Heavy Metal) from these fiery grooves and it bursts into life with molten metal guitar solos midway.
A slight touch of calm sees the balladry of 'The Traveler' also keep to the rocking out mainly from bass guitar bombast as deft guitar lines meander around seismic heavy riffs.
The temperature rises as 'Hellfire' lights up the sky for a full blooded onslaught, especially from the insane drum work and twin lead shredding.
More drum battery raises the intensity for 'Chasing The Rainbow' as this midpaced thrash opus takes a breather for sedate choruses, then moves up a gear for more riotous twin lead solos.
More heat comes from 'Ashes And Fire' as it scorches marching style beats and regal riffs to send it to the front line.
Power metal prowess pummels 'Burn It Down' into oblivion for a furious three minutes of pit opening fury.
My album highlight is 'Fall Of A Common Man', full of twin guitar harmonies to soothe the soul, stuttering rhythms and huge shout em out loud and proud choruses lock in tight for a breathtaking outro.
The vibe of NWOBHM returns for 'Sounds Of The Night' to roar with skin flaying riffs of speed metal levels, closing on kick drum battery!
'Renegade' ends this sensational album on grinding riffs and laid back guitar lines to leave the spotlight open for helium fuelled vocal choruses.
Pre-purchase links to Kingmaker and other band info are here :- https://shop.wearescreamer.com I http://wearescreamer.com I https://www.facebook.com/wearescreamer I https://screamer.lnk.to/Kingmaker
Kingmaker album track listing :-
Kingmaker.
Rise Above.
The Traveler.
Hellfire.
Chasing The Rainbow.
Ashes And Fire.
Burn It Down.
Fall Of A Common Man.
Sounds Of The Night.
Renegade.
Screamer band personnel :-
Andreas Wikstrom – Lead Vocals.
Jon Morheim – Guitar.
Dejan Rosic – Guitar.
Fredrik Svensson Carlstrom – Bass Guitar.
Henrik Petersson – Drums.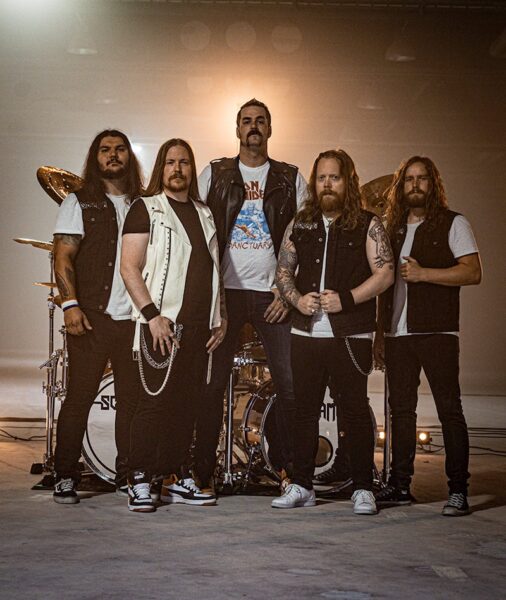 Let me hear you scream Screamer as they release their latest studio album Kingmaker in January 2023.