Scythe is a three-piece heavy metal outfit from Chicago which was founded by former Usurper front man Rick Scythe in 2010. Old school in their approach, they state on their official website that their sound "incorporates the style of 80's thrash/black/speed metal, combined with elements of dark atmosphere, classic heavy metal and heavy rock n' roll to create an original sound that follows no modern trends". After releasing their debut album Beware the Scythe in 2012, the trio has now quickly followed up with the brutal sounding Subterranean Steel. 
Quick and heavy right from the get-go, 'Leather Aggressor' sets a tremendous precedent for the rest of the album to follow. Rick Scythe combines growling vocals with exquisite guitar work, and there is an atmospheric bass break highlighting the talents of Dan Geist. All throughout, the drum work of Joey Contreras is consistent and thorough. The production quality is good but not crystal clear, in some sense harkening back to the way albums used to sound in the '80s. I would call this a thrash number with sprinklings of black and death metal, but mostly I'd just call it heavy as hell.
'Monarch' is rhythmically perfect, with a chugging pace that is somewhere between the older works of both Exciter and Metallica. Rick's vocals are much darker on this one than on the opening track, adding an extra punch to the experience. Following this is the album's title track, and with it comes a much more brooding ambiance. At times it is a bit much to take in, particularly in the first couple of minutes where the music takes a fuzzy, almost crust tone. After that everything suddenly becomes a lot clearer, and Contreras shows off some impressive drumming. That being said, though, the subsequent guitar solo is somewhat buried in the mix.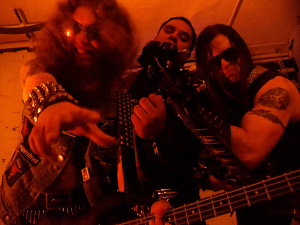 'October Dies' is a perhaps the  best expression of the dark  atmosphere the band says it  tries to incorporate into its  music. Every so often Rick  and Dan combine vocally to  produce something quite  demonic, and the use of blast  beats and weighty guitar  chords make this a deeply  heavy song to listen to. Those  vocal combinations continue on 'The Grunting Dead', a song where the drums are the most prominent and notable component of the frenetic sound. Meanwhile in 'The Bray Beast', Rick utilizes variously pitched guitar chords to emphasize certain lyrics, adding something new to the overall album sound.
The experimentation continues on 'Beyond the Northwoods', whose opening is replete with wah-embellished guitar playing. Another vocally dark number, this one comes with a layered, breakdown filled ending. The opening of 'Nights of Terror' has a real bounce to it; it sounds to me like Diamond Head's 'It's Electric', only deeper in tone. This is a really fun track to listen to, almost like the band set out to just write a nice energetic number without too much musical subtext. The album then ends with 'Thunder Hammer', which certainly lives up to its name. An explosive and highly-charged slice of mayhem, this is an outstanding finale of headbanging awesomeness.
This is, on the whole, an excellently varied album full of expressive heavy music and darkly epic lyrics. Though at times it can feel like there is just a little too much going in, this is surely one of the best extreme releases of the year.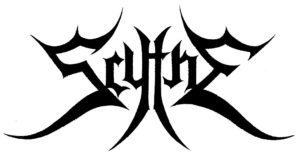 Scythe are:
Rick Scythe – Guitars/Vocals
Dan Geist – Bass/Vocals
Joey Contreras – Drums
Links:
https://www.facebook.com/scythe.chicago