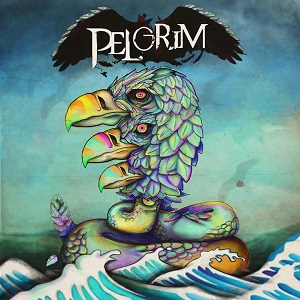 This review is of a band from my hometown Tilburg (Netherlands). Pelgrim is one of the most promising bands from this region.  They have grown very fast since the release of their first song "For Better or Worse" from their debut EP and I believe they can conquer the world if they maintain their raging glory. Their first album is self-titled and will be released on September 7th. This band is known for their very energetic shows that incorporate a lot of twists coupled with a good dose of humor.  I hope that this EP will be embraced the same way.
The music is a mix between prog, djent, metalcore and groove. As you can see there are a lot of styles and that could go terribly wrong, leaving the album sounding like a disjointed mess. Thankfully, for Pelgrim this is not the case. The songs combine being brutality and melody  in a perfect way. Guitarists Koen Scheepens and Pim Goossens play sickly technical passages and combine that perfectly with very groovy riffs. A very good example of this is evident in "For Better or Worse". Frontman, Wouter Zaman's voice is penetrating and sounds like  he is ready to kill!
The EP starts with a nice piano intro and progresses into a harsh, melodic style that makes it clear where this band distinguishes itself from other bands. On the first listen you will think you've  heard this kind of music before but if you listen closely on subsequent plays, you hear gems throughout this album. A lot of musical tricks arel be thrown in your face but one downside of their technical game is that the songs are harder to remember after digesting them.
On first song "Precursor", Wouter slaps you in the face with his vocals before the whole band join in and start tearing the place apart. On this track vocal chords and instruments are tested to the max and every member really puts their heart into the effort. Their creativity and technicality comes to the fore.
After "Precursor", you are left reeling and the "Subsider" explodes and kicks you in the nuts (if you have them).  This song is a melodic pearl with some nice choral parts. They even include a little humor in it with a funny "woew!" which made me giggle.
Pelgrim are ready for bigger stages and are ready to bring their energetic shows to a venue near you! Their first ever EP is of high quality and for me it is a standalone gem.
Pelgrim are:
Wouter Zaman – Vocals & Samples
Pim Goossens – Guitar
Koen Scheepens – Guitar & Backing vocals
Django van Loon – Bass & Backing vocals
Rik Torremans – Drums & Backing vocals
Links:
https://www.facebook.com/Pelgrim.band