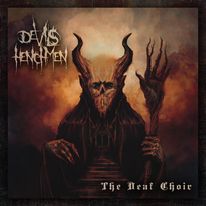 Doesn't time fly? Point proven by first meeting and seeing Devils Henchmen play at the Badass Bash Festival at the Snooty Fox in Wakefield, then a three piece they were all only fourteen. They showed great promise then which has been fulfilled. Now a four piece, they prepare to release their debut studio album The Deaf Choir with an album launch show on October 6th 2023 at E.B.G.B.S from 19.00-23.00.
They class themselves as a four piece classic metal band based in Liverpool but after my first listen, they can thrash along as good as any I've heard for many years, point proven once more by album opener and new single 'Grimace'. It's a bonafide pit opener as it surges in on a 'Fight Fire With Fire' vibe. Riffs thrash and slash around an insane kick drum battery. A midway breakdown briefly gives chance to take a breath until it chugs along until the warp speeds return.
'Think Like You' is a gruelling grinder as it tears down the fast lane on more full throttle drum assaults for a thrashtastic performance, all pinned down by a lungbusting lead vocal, bringing to mind the anger of early Exodus.
A hate fuelled vocal adds an edge to 'Bite Back' for this hypnotically riffed metal mauling monster to test the metal mettle of your speakers. Touches of doom metal add a shroud of ire, picking up speed towards a fretboard burning outro.
'Hangman's Craft' is a blacken hearted soul stealer that could stop anything in its path. Once again a vociferous vocal sets the scene for more lightspeed kick drumming and an air guitar inducing outro.
'Time And Time Again' is a slavering slammer par excellence for a headphone rattling major rager, ending on Godzilla stomps and a vocal not of this World.
'Hollow' wears its Sabbath heart on its sleeve as it stomps along with riffs that Tony Iommi would be proud of for a four fuzzed up minute intro, making way for a proto thrash fist fighter until all hell breaks loose for a blink and you'll miss it outro.
'Poison' is a foot to the floor skin flayer of multi tempo rhythms that gets even more deranged when the fuse is lit for a gang like vocal and a hammer blow drum and finger bleeding guitar outro.
'Burn' is a hot rails to hell turbocharger of boisterous riffs and Joe Doolans most unhinged lead vocal, ending on a bass heavy pummel and dissonant guitar squalls.
'Oppressor' is a claustrophobic clatter of off kilter grooves that raises the heaviness ante, even more so when they lock in for an invincible force of nature.
They close this highly impressive debut album with 'Greed', a thrash masterpiece served up and devoured from a main course of lightning speed tempos, ending on a quicksand thick dirge.
Band links are here including a pre-order for the CD. :- http://linktr.ee/devilshenchmen.uk
Devils Henchmen band line up :-
Joe Doolan -Guitar/Lead Vocals.
Daniel Adkins – Drums.
Elliott Kyriakides – Bass Guitar/Backing Vocals.
Dylan Ware – Lead Guitar/Backing Vocals.
Album track listing –
Grimace.
Think Like You.
Bite Back.
Hangman's Craft.
Time And Time Again.
Hollow.
Poison.
Burn.
Oppressor.
Greed.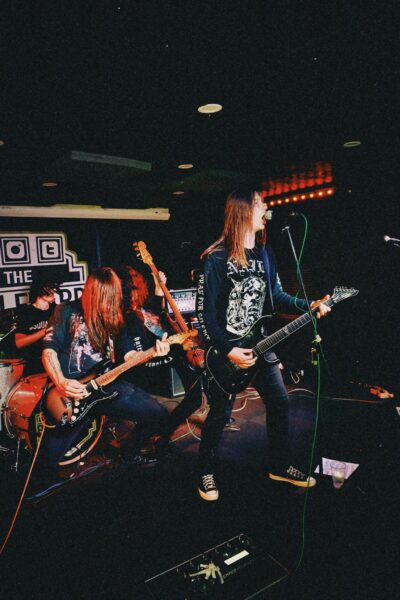 Devils Henchmen unleash ten thrash metal commandments from Hell with their debut album The Deaf Choir.