Raised By Owls are a Death Metal band from Derby releasing this, their first full length album on the back of nine singles and one EP. The band were formed in 2016 and don't hold anything back with their witty and hilarious sense of humour which they capture perfectly within their tracks. If your a fan of Napalm Death / Raging Speedhorn etc then these are the guys for you.
What I am going to say before we get into some of the songs (there's 21 in all here) is what a work of art this album is. For sheer intensity alone, it scores top marks. This is a rollercoaster ride, and a blooming good one at that. The song titles suggest that it could another 'spoof' album but no. This is the real deal. From the moment 'Noel's haunted House Party'  hits you, to the final words spoken at the end of 'Halloween At Richard And Judy's',  Raised By Owls succeed in sucking you into this comical world of theirs for the duration.
The lyrics are pure genius. Take album opener 'Noel's haunted House Party's'  first verse:
'A dark presence looming in the air. Night falls, somethings creeping up the stairs. 
Blood starts to trickle down these walls, Mr.Blobby haunts these halls'.
Absolute awesome filth!! As far as the album's formula goes, it's pretty much the same throughout. Speed driven death metal as it's very fastest and very best. To enjoy this album even more, I suggest having the lyrics to the tracks in front of you. You'll be rolling around with laughter and enjoying some fierce metal at the same time. A perfect combination. Take the time to digest some classic song titles such as 'Cult Of David Dickinson'  (video link above), and 'Rob Halford Robs Halfords'.  If you love your Thrash / Death Metal, then this album should not be missed. I am already waiting for North West live dates!!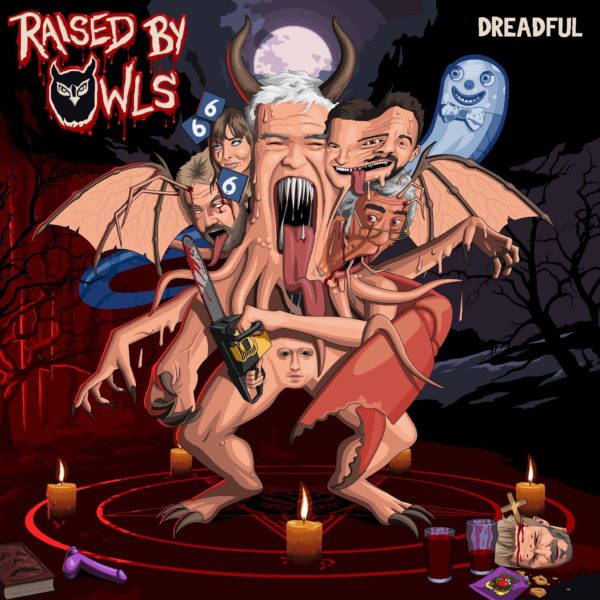 Track Listing: (1) – Noel's Haunted House Party   (2) – Eggs Benedict Cumberbatch   (3) – Netflix And Kill
(4) – Two Pints Of Virgin's Blood And A Packet Of Crisps   (5) – Cult Of David Dickinson
(6) – Ant And Dec Vs. The Evil Dead   (7) – Yelling Slayer At Your Nan's Funeral   (8) – Getting Drunk With Satan
(9) – The Philip Schofield Chainsaw Massacre   (10) – Burning Churches Is The Most Fun You Can Have Without Taking Your Clothes Off   (11) – Fifty Shades Of Grind   (12) – Owen Wilson Says Wow
(13) – Gordon Ramsay's Insatiable Appetite For Human Flesh   (14) – The Boring Exorcism Of David Beckham
(15) – Rob Halford Robs Halfords   (16) – Indiana Jones And The Temple Of Easily Offended Millennials
(17) – The Ultimate Keyboard Warrior   (18) – Carol  Vorderman's Countdown To Extinction   (19) – Night Of The Living Dildos   (20) – Mark Zuckerberg, King Of the Nightmare Realm   (21) – Halloween At Richard And Judy's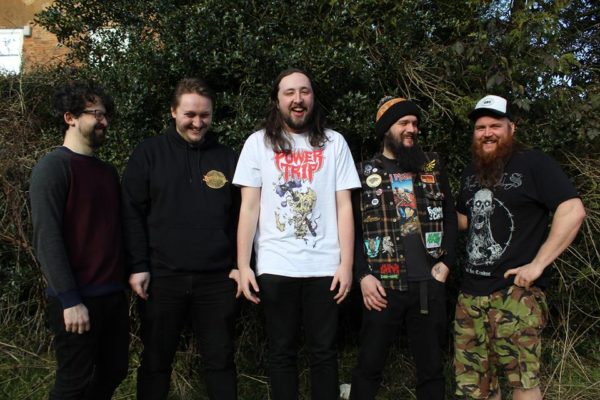 Line-up:
Sam Fowler – Vocals   /   Alex Le Grice – Guitar / Backing Vocals   /   Mark Bainbridge – Guitar
Tobias Cope – Bass   /   Lee Deane – Drums
Links:
Facebook   Bandcamp   YouTube   Spotify 
Release date: 29/03/19. Length: 51:11. Death Metal perfection.