So, can Obey overcome the tricky third album syndrome with their new opus Swallow The Sun? Of course they have and with ease! It's taken 3 years since they served up Maelstrom but the wait has been worthwhile as opener 'Back Home' draws you in from the off by a minute of ridiculously heavy but catchy riffing from Steve Pickin as his clean, melodic vocals bring the pace down subtly until a monstrous midsection leads to a clubbing outro.
A thudding main riff drives, erm 'Drive' onto a solo ridden passage that weaves around a melancholy vocal. 'Call Of The Judderman' is a drum driven pounder courtesy of Ryan Gillespie as he shows off his metallic mettle as the riffs hit hard like a boxers jabs. 'Star Crusher' is a brief instrumental that could crush the universe and all within it. Everything is thrown into the pot for the title track as multi time changes kept this reviewer on his toes. It's utterly captivating with a multitude of riffs, fills, an hypnotic vocal and they even throw a quirky jig in to! A devilishly melodic first 2 minutes in 'Esmeralda And The Doom Blues' switches into Godzilla stomp grooves as a churning riff rears its head for a headbanging finish as Steve howls "Black holes where her eyes once were".
A dreamy vibe runs around some of the heaviest riffs on the album in 'The Mountain' as snappy snare work and buzzing riffs raise the bar even higher in this foot to the floor rager. 'Emerald Eyes', my personal favourite closes the album in style. Stuttering riffs envelop melodic choruses as the drums heavy up over an over the top guitar solo as bassist Dan Ryder lays down some heavy lines that precede a kick drum outro. An official album launch will take place at the Underground in Stoke on April 5th!
Swallow The Sky album track listing :-
Back Home.
Drive.
Call Of The Judderman.
Star Crusher.
Swallow The Sun.
Esmeralda And The Doom Blues.
The Mountain.
Vultures.
Emerald Eyes.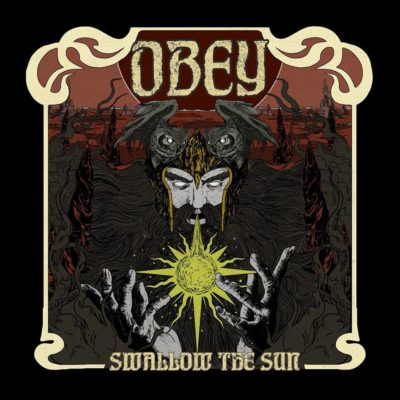 Obey reach for the stars on their latest studio album Swallow The Sun.