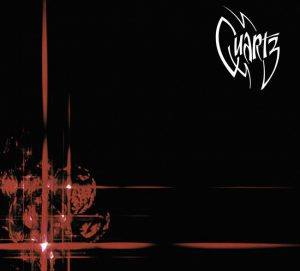 Those fine folk at Dissonance Productions have cranked up their time machine and unearthed the self titled debut from Quartz in 1977. Produced by Tony Iommi, they also supported Black Sabbath the same year and appeared at the prestigious Reading Festival (when it used to be rock/metal related) in 1977, 78 and 80!
The album opens powerfully with 'Mainline Riders', its powerful bass guitar lines from Derek Arnold may or may not have influenced the Sabs track 'Heaven And Hell' as they are very similar. The riffs are melodic but still heavy especially as they gather speed to headbanging pace towards the outro backed by some serious pounding from Malcolm Cope on drums. 'Sugar Rain' is a quirky ballad. Its gentle intro eases into a pleading vocal from the sadly departed Mike 'Taffy' Taylor and hits a prog stride as it ends on a shuffle with added flute! 'Street Fighting Lady' (the first single released from the album) is an early NWOBHM influence with twin guitar work from Mick Hopkins and also sadly departed Geoff Nicholls. Their versatility is highlighted here by 'Hustler' as its guitar driven rock and big riffed out choruses are eclipsed by a jazzy ending and Taffy wailing with aplomb.
'Smokie' is a brief and beautiful acoustic piece followed by 'Around And Around' that rattles along on 'Rocking In The Free World' tempos as a laid back midsection precedes a full on ending. The heavy metal 'Pleasure Seekers' is aptly titled with its nudge nudge, wink wink lyrical content and a folky vibe closes the album with 'Little Old Lady' bubbling along backed by heartfelt lyrics.
You can next catch Quartz live in the UK when they appear at the Grimm Up North Rock And Metal Festival in Bury between the 8th, 9th and 10th March 2019.
Facebook links – Quartz / Grimm Up North Festival 
A jewel in the crown debut by Quartz that has stood the test of time.