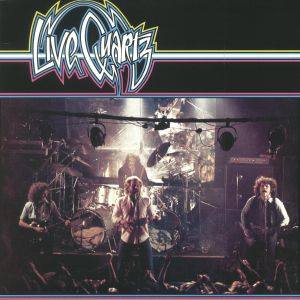 Now this is how live albums should sound! Dissonance Productions have raided the heavy metal vaults and dug out this 1980 Live Quartz album, of course by the band Quartz. Actually recorded on December 1st 1979 in their hometown of Digbeth, it sounds stripped down to its bare bones.
Three songs from their self titled debut album are here, the first of which 'Street Fighting Lady' opens the set raw and in your face with sadly departed lead vocalist Mike 'Taffy' Taylor belting the lyrics out with his gravelly tones. 'Good Times' is aptly titled, is a souped up cover of the 1968 release by the Easybeats and 'Mainline Rider' is a harder and heavier version than in the studio with some speaker rattling ballbusting tempos. 'Belinda' is an absolute monster with heavy doom like riffing that drives this headbanger along and they manage to get the crowd in fine voice but it's a shame it fades out early as I've heard longer versions.
The lengthy nine minute epic 'Count Dracula' does not outstay its welcome with some fine boogie rhythms and an elongated guitar solo from Mick Hopkins midway as it crashes out on a heavy stomp. 'Around And Around', the third and final song from the debut album is elongated for a few minutes more and I wonder how much of the venue was left after this floor shaker was cranked out. 'Roll Over Beethoven' of course is a cover of the Chuck Berry classic and I wonder what he would have thought of their rollicking version as would of Leslie West as the album ends with a bombastic cover of 'Nantucket Sleighride' by his band Mountain. If there is a heavier version than this then I've yet to hear it as Micks riffs are backed by snappy snare work from Malcolm Cope and keyboards from also the sadly departed Geoff Nicholls.
Facebook links – Quartz / Grimm Up North Festival 
Quartz live onstage in all their 24 carat glory!