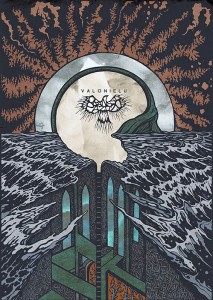 Finland's Oranssi Pazuzu presents fans with six original, genre-expanding, no-frills good tunes. Music replete with creativity sparks interest.
Valonielu blends sparse industrial with rock, insanely running it through an extreme metal filter, resulting in a crazy chimera.
The long, well-crafted songs feature guitars utilizing some of the heaviest, thickest "breakup" distortion appreciable on record.
Vaguely Bathory-esque, the band is content to bash out relatively simplistic, vicious, grooving licks.
Plenty of random noise percolates inwards, adding the most unlikely of textures.
The slightly unpolished mix suits the instrumentation and delivery well. An intriguing, good listen for seekers of something truly different.
Track Listing:
Vino Verso (Askew Sprout)
Tyhja Temppeli (The Empty Temple)
Uraanisula (Molten Uranium)
Reika Maisemassa (A Hole In The Landscape)
Olen Aukaissut Uuden Silman (I Have Opened A New Eye)
Ympyra On Viiva Tomussa (A Circle Is A Line In The Dust)