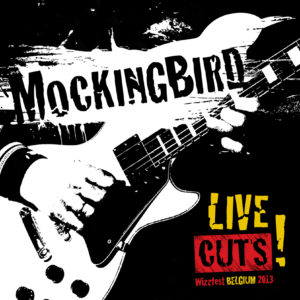 Mockingbird's Live Cuts was recorded at Wizzfest in Belgium.
This Irish band formed in 2009; they still have some raw energy and enthusiasm carrying them forward.
The album's ten charming tracks are mixed fairly unbalanced, which is typical for a live setting. When the guitar breaks to solo (tasty!), the mix falls thin.
Only at ear-damaging high volume does this power trio retain it's impact.
Kudos to the band for "paying dues": playing originals in clubs.
If they were Americans, they'd be labeled 'typical bar band', playing straightforward hard rock: nothing groundbreaking, not bad.
It's pleasant "music to drink to".
Band Lineup:
Ian O'Sullivan – guitar, vocals
Noel Cunningham – bass, backing vocals
Phil Cunningham – drums, backing vocals
Track Listing:
All That I Need
Steal Your Heart Away
Crossfire
One Shot
Draggin' Me Down
Interlude
Hard Rain
Movin' On
Free Your Mind
Already Gone
Link:
Official Band Website