Sophomore album from these Finnish Tech-Death wizards doesn't disappoint
Relative newcomers to the technical side of death metal, Finland's Omnivortex released a strong debut back in 2020 called "Diagrams of Conciousness". Following that now in 2023 is "Circulate" continuing as strongly as the last album left off.
First things first: the term "Technical Death Metal" usually conjures up djenty type riffs, off kilter and complicated solos, and numerous time & signature changes. I'll not be surprised if bands like Meshuggah come to mind straight away. However, what they lack, Omnivortex deliver in spades – and that is great melodies and vocal variation. The latter helped by both drummer Aaro Osterman, and guitarist Severi Saarioja handling the duties.
So onto the meat of the album itself…
Kicking off with "Dwells" an ominous tremelo guitar lick soon gets blasted aside by hefty fat riffs with some cracking double kick and blasts from the drum department. Immediatedly obvious (to my ears at least) is a rather nice earworm of a subtle melody. With both gruff bellows, and higher screamed style vocals, this is one fine way to start an album.
Our second track does indeed give us a downtuned punchy riff to start proceedings. Though of a relatively quick tempo, this does ebb and flow like gentle ripples before that fat initial riff kicks us again. After a splendid and slightly discordant guitar solo about half way through, Omnivortex slow things down somewhat before picking the speed up, along with some polyrhythmic drumming. This leads us to a rather serene melodic guitar outro.
"Of Aeons Past" starts off heavy and much slower than the preceding tracks, before heading off into a more blackened take on death metal. This has some nice variation within, that makes for a pleasing listen to these ears..
Tidal forces at play??
With the rhythmic ebb and flow of "Slumbering In Black" you could think that the phases of the moon have played a part in the writing of this track. From a mid tempo pace, it slows down into a psychaedelic dreamy mid section, before returning with huge breakers of heavyiness once again.
"Mechanical Motions" has a rather a slightly industrial kick to it, which drags the listener along a conveyor belt of tasty riffs, tuneful solos and slower more tranquil parts, before the razor sharp riffs come back to slice bits off your ears. Longest track on the album here, and I have to say its one of my favourites on the album.
We continue along at a respectable cruising speed into "Husk" and its technical miasma of riffs. As with other tracks though, this has lots of different moods and emotions conveyed via the superb instrumentation.
Our penultimate track is also the shortest. And as so, its fierce – much moreso than what we have heard before it. This track once again proves you can be heavy and technical without losing what makes for a good song.
Final litany "Endless" at first put me in mind of my good friends Slugdge, with a similar tone and tempo to some of their tracks (If you haven't heard of them, check out the albums "Gastronomicon" and "Dim & Slimeridden Kingdoms". You'll thank me for it!). It's got lots of layers to it, and movements that give full showing of the fantastic songwriting displayed throughout the album.
Final Verdict…
What can I say?! This is a fantastically crafted album, that is not overly technical compared to other bands that are pigeonholed in the genre, but it delivers great songs with plenty of earworms that will leave you wanting to play it over again. Kudos to the guys for in my opinion for creating a better album than their debut – which in itself was a fine work!
The album is available now through Bandcamp and Inverse Records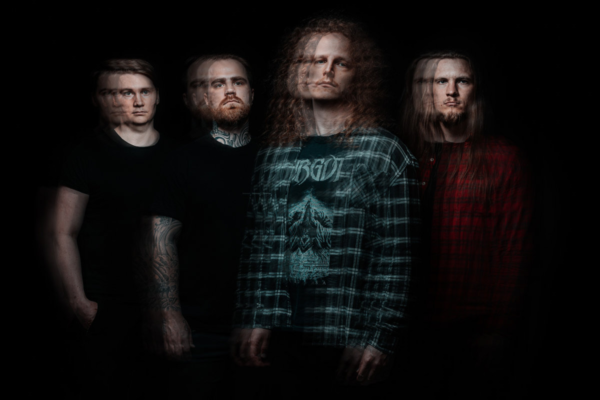 Track Listing
1 – Dwells
2 – Transforming to Pale Mist
3 – Of Aeons Past
4 – Slumbering In Black
5 – Mechanical Motions
6 – Husk
7 – Harbinger Of Cosmic Death
8 – Endless
Links
Official site https://www.omnivortexofficial.com/
Facebook https://www.facebook.com/omnivortexofficial/
Bandcamp https://omnivortexofficial.bandcamp.com/
This is a fantastically crafted album, that is not overly technical compared to other bands that are pigeonholed in the genre, but it delivers great songs with plenty of earworms that will leave you wanting to play it over again
Download 6.66 Euros

editor rating