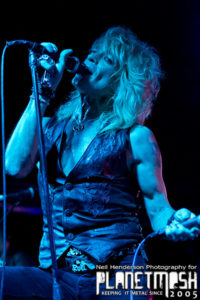 A cold Friday at the end of November finds me back in the Cathouse in Glasgow for the UK leg of Michael Monroe's Horn's and Halo's world tour, but the temperature doesn't matter when for my money you have one of the best front men in the rock scene at the moment about to perform on stage and entertain you.
Support band for tonight was The Black Lights from Central Scotland who's brand of classic rock seemed to go down well with the filling venue. Songs like 'Season Of The Bitch' and 'Money' doing particularly well with the Mike Monroe fans, all too soon their time was over and the stage was cleared ready for Michael Monroe and his cohorts to hit the stage.
Hitting the stage doesn't really do justice to what happens when Mr Monroe and his all star band walk on stage and start to play. The band arrive quietly enough while the intro tape plays there is a short pause Michael arrives and it's like a 1000 tons of TNT has been let off in the venue! To my mind this is how rock n' roll should be played loud, fast an with 100% commitment from all on stage and tonight was no different from any of the other times I've seen Michael Monroe live. With Sami and Karl driving the band forward, Steve Conte's excellent guitar work not forgetting Dregen replacement for this tour Rich Jones also on guitar this has to be one of the best sounding and working bands out there.
A large part of tonight's set was from Michael's new album Horns and Halos as expected and live it certainly did not sound out of place with the older material that was played, the 'Ballard Of The Lower East Side' I thought was sublime. Michael was on great form tonight like some prowling caged animal he was all over the small Cathouse stage and constantly leaping across to the barrier to be closer to his audience. The fans had to wait till the end of the main set before we got some of the classic Hanoi Rocks tunes before a stellar version of my personal favourite Michael Monroe song 'Dead, Jail or Rock 'N' Roll' rounding off the main set.
Tonight was a perfect example of everything that is good in rock music great musicianship, great showmanship and a band that won't quit till the very last note of the last song is played. Now if somebody could tell me where that guy gets all that energy from night after night on the tour I would be eternally grateful lol.
Setlist:
Horn's and Halos
Trick of the Wrist
TNT Diet
Ballad of the Lower East Side
78
Stained Glass Heart
Soul Surrender
Child Of The Revolution
Got Blood
Modern Day Miracle
Love Song
Machine Gun Etiquette
Motorvatin
Hammersmith Palais
Malibu Beach
Dead, Jail or Rock 'N' Roll
Encore:
Underwater World
Do Anything you Wanna Do
Band:
Michael Monroe Vocals, Saxophone & Harmonica
Steve Conte Guitar, Backing Vocals
Sami Yaffa Bass, Backing Vocals
Karl 'Rockfist' Rosqvist Drums
Rich Jones Guitar, Backing Vocals