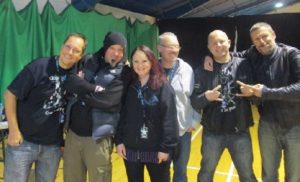 After two and a half days of hard rocking music, Lawnmower Deth were charged with closing this year's Hard Rock Hell with their set on Stage 2.  Given that their stage time was not until 1.45am they had a little time free for interviews beforehand and I hope you're sitting comfortably as this is twenty odd minutes of hilarity.
From a not so successful campaign for Eurovision, to their upcoming line of clothing for aging rockers, to their brief stint as TV stars (see below for a short clip from the series Boon) the originators of abridged metal provide an informative and entertaining snapshot into what goes through their minds.
https://www.facebook.com/pages/Lawnmower-Deth/222850577726503
On a more serious note, Lawnmower Deth have joined forces with the S.O.P.H.I.E. Lancaster Foundation to raise money for the charity with a massive auction and raffle.  The auction continues until 10th December 2013 with 100% of the bid going towards the S.O.P.H.I.E. Lancaster Foundation.  There is an amazing array of prizes on offer including 2 Download VIP passes and an abundance of Earache Records merchandise.  But don't just take my word for it, here is Lawnmower Deth again to tell you all about how they and others got involved and really why you should all take part.
https://www.facebook.com/ldauction