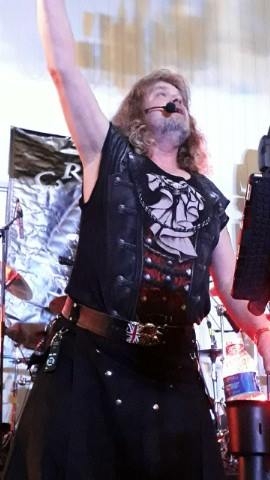 Here we go again as a similar song once said. Curious weather in Bury before the first full day of Grimm Up North 2019 as we had rain, hail, snow and sunshine within an hour so that was a sign of a metal storm to come and it did with Swedish metallers Cult Of The Fox providing an onstage hurricane.
I've not come across a husband and wife being in the same band before as this one sees Peter and Erika Wallberg on guitar and bass guitar. A raucous twin guitar attack throughout 'Siege From The Sky' cleared a few cobwebs with vocalist Magnus Hultman hitting the high notes whilst clutching a can of Carling. Top job! There was no pause for breath as 'Letters Of Fire And Sword' fired along on Peters powerful bass lines. Magnus dominated the chugging 'Angelsbane' and the hypnotic grooves of 'Nine Ones' captivated . Their heaviest song 'Warrior Reborn' made this reviewer reborn and a call to arms 'Bones Alley' hit hard to. They went out on a high with the chest beating 'Nightmaster' and the power metal velocity of 'A Witch Shall Be Born'.
The diversity of the bill came from Swansea based Psycho Kiss with their heavy alt rock delivered by the powerhouse vocals and stage presence of Helen Ceri Clarke. Technical problems for lead guitarist Paul O' Brien didn't dampen their spirits as they sleazed into their set with 'Grit'. Face melting guitar solos and a stellar vocal made for a strong start and they kept up the heat with the aptly named 'Scream'. 'Grieve For You' was an intense power ballad and they picked up the pace with the muscly 'Home. Helen said "We'll do one more then set fire to Pauls guitar and they played an angst ridden cover of 'Man In The Box' but the guitar lived to fight another day.
  Satans Empire have dusted off the cobwebs after a long time away and have returned with a hefty comeback album called Rising. Fronted by the imposing brawn of Derek Lyon they opened with 'Slaves Of Satan,' (a possible name for the fans maybe?) marking their territory with some frenetic NWOBHM. The scything riffing throughout 'On The Road To Hell' pumped an already heavy song heavier and 'Shout It Out (Hail)' saw some hilarious audience participation when Derek held his mike stand into the crowd to untangle the lead cable. A battle metal vibe flowed through 'Secrets' and the power they created during 'Dragonslayer' could of easily slayed one. 'Hail The Empire' was hymn like majesty that went through the gears midway and they closed with the twenty four carat metal overload 'Soldiers Of War'.
Event organizer Kevin Wynn strapped on his bass as he took his place in Tysondog, another example of the North East NWOBHM hierarchy. His tshirt read Heavy Fuckin Metal and we got it in spades from set opener 'Blood Money' and the full on outro was metal nirvana. 'Don't Let The Bastards Grind You Down' was belted out befitting its title by the hyperactive Bilk Gang on lead vocals who had more energy than a Duracell bunny! 'The Machine', one of four aired from their 1984 debut album Beware Of The Dog came straight out of the starting blocks and flew through the finishing tape on a cavalcade of drumming from Phil Brewis. 'Hammerhead' also killed as did the double bass drum driven 'Dog Soldiers'. Just when you thought it could not get any heavier, along came the double denim fury of 'Shadow Of The Beast' and 'Taste The Hate'.
Now it was time for Craig 'Clanger' Fearnley to take a well earned break from his stage duties, strap on his guitar and take his place in Sister Rose, a feisty quartet who would not just get your party started but would neck all your beer and vol au vents! Formed in 1978 and named after a brothel, you knew this wasn't going to be a dull set. Chucking five songs into their set from new album No Cause For Distraction was a masterstroke as 'Seven' gave the p.a system a good kicking. Frontman Chris Berry has a throaty rasp that gives an edge to their numbers point proven by the sultry 'Long Dark Days' that gave Craig an outlet for a lengthy blues solo. 'Shame On You' was classy AOR full of gripping melodies, 'World Stops Turning' threw up some provoking lyrics during it's laid back bombast but my pick of the bunch was set closer 'Bullet' aptly named as it proved to be their heaviest song of the set with bassist Woz and Wanger on drums kicking out the jams who provided very strong backing vocals .
Welsh power metal band Traitors Gate in existence for thirty years have reformed with the original line up and their interests are described as "Riffing it up" which they certainly did! Set opener 'Nothing To Lose' seemed to have every heavy metal cliche in the book and we loved it! They got a touch more melodic with 'Deceiver' but was toughened up with some beefy guitar work from Andy Durso. 'Homeland' certainly shook the rafters and the foot to the floor rhythms in 'Fall From Grace' got heads nodding in the front rows. 'Solar Plains' (not a Priest cover) kept the metal bar raised high followed by a thunderous 'Only The Strong' and they turned the clock back to 1985 to end on the exhilarating 'The Devil Takes The High Road'. Job done!
Next up was Chrome Molly, a bucket list band that I missed back in the day and their set was well worth the wait as they opened with 'Short Sharp Shock' and it certainly was with heaps of catchy riffing and band backed vocals to the mighty roars of Steve Hawkins. Everything was thrown into the pot during 'Can't Be Afraid Of The Dark' with the main ingredients being a vocal tour de force and guitar solos. 'Pillars Of Creation' followed a passionate intro of how Donington Monsters Of Rock used to be before it turned into the dreaded Download! 'Shooting Me Down', a song written for them in 1988 by Jim Lea and Dave Hill from Slade. 'Take It Or Leave It' had radio airplay written all over it, ' Angst' was introduced as a ballad but still rocked hard and all hell broke loose as they stepped up a gear during 'Cut Loose' and set closer 'Corporation Fear' was battered out with Motorhead like intensity.
The jewel in the crown for me today was Quartz who unbelievably have a total age of over 250 years. The stage moves may have decreased apart from blink and you'll miss him lead vocalist David Garner who is no spring chicken and I wish I'd asked him his secret of eternal youth as I'm fast approaching 56 and he could run rings around me. 'Zombie Resurrection' was a crushing set opener with Godzilla stomp dynamics. 'Mainline Riders' was dominated by an all consuming main riff and we were then treated to a pairing from the 1980 Stand Up And Fight album with the melodic heavy rock of the title track which lead straight into the foot tapper that was 'Charlie Snow'. 'Wildfire' hit hard but the all time classic 'Satans Serenade' was greeted by huge cheers and rightly so as it rumbled around the room. A touching intro to 'Heaven And Hell' by David explained how their sadly departed guitarist/keyboard player Geoff Nicholls had co wrote this with Tony Iommi and they then delivered an emotionally charged cover of it backed by the large crowd.
Next up was Abaddon of course named of the stage name of Tony Bray, ex Venom drummer. Joined by the lead vocals and bass guitar duties from Steve Hoggart and the incendiary guitar work of David Turner they charged through an 11 song set of 5 originals and 6 Venom covers. Pick of the originals was set opener 'Hatred Cage' that went straight for the throat mainly from the caustic lead vocals from Steve . The 6 Venom numbers began with a suffocating 'Welcome To Hell' , a devilishly battered 'In Nomine Satanus', a manic leered 'Burn The Witch', a booming 'Countess Bathory, and their pummeling set ended on two knockout blows of a manic 'Die Hard' and the black metal genre defining overload of 'Black Metal. When it all ended an eerie calm spread throughout the room from what we had just witnessed.
Headliners Steve Grimmett's Grim Reaper are why this festival started so as to raise funds for medical bills arising from a part amputation of his right leg due to an infection whilst on tour in South America. He spent a lot of time seated last time but tonight he was much more mobile and as usual, in fine voice and humour. A rapturous crowd soaked up a massive fifteen song set that opened with a (pardon the pun) soaring 'On The WIngs Of Angels' followed by a turbocharged 'Run You To Hell'. Highlights were many but pick of the bunch were 'Lust For Freedom' preceded by an emotional speech thanking everyone related to the festival for their help. 'Fear No Evil' hit hard as did 'Suck It And See' introduced as how he lost his virginity at 12 to his babysitter! 'Rock Me Till I Die' was a real cheese fest and my favourite was a stunning cover of 'Don't Talk To Strangers'. Of course the set ended on a crowd fueled 'See You In Hell.