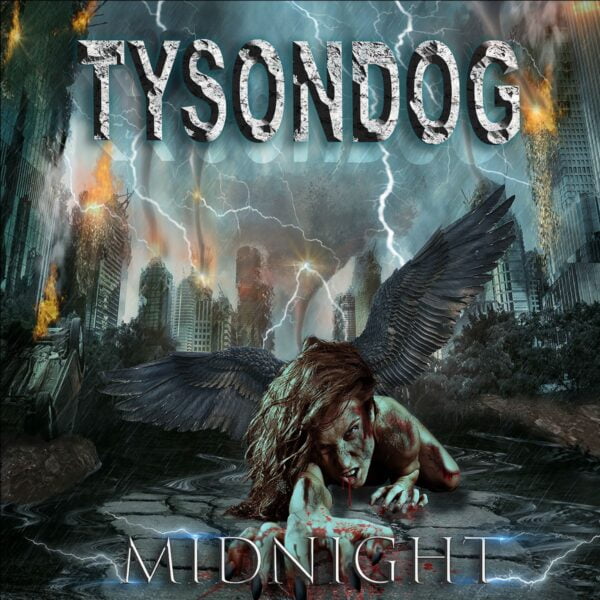 As Ted Nugent once said, "You can't keep a good dog off your leg", so welcome back Newcastle Upon Tyne metalheads Tysondog who prove they are best of breed with new studio album Midnight out now via From The Vaults and you would be barking mad not to buy it!
A full on mix from producer Pete Newdeck lets these nine songs blow your speakers as it kicks off with 'Battalion', a six minute call to arms epic that's truly astonishing. They wave the heavy metal flag high with bulldog spirit as it opens with a killer main riff backed by superhuman kick drumming towards faster riffs, bass bombast, fretboard burning twin leads and a headbanging outro.
'It Lives' lives, breathes and roars with aplomb on a hypnotic chug and stays there for an early album highlight but when the solos kick in they are leaders of the pack!
'Hellbound' is a drum driven devastator that pounds along like the heavier side of Rammstein. Riffs have demolition ball wrecking power to test the metal mettle of any P.A system it surges through.
'Midnight', first single released from the album has a sedate intro that's let off the leash to riff it up for the air guitarists (Nick Grimley?) as it surges on an unstoppable groove.
'Defiant' walks the walk and talks the talk so make no bones about what's left of your hearing at the end of this snarling slammer. Once again, another kick drum salvo makes for an overwhelming song.
A slow burning first minute for 'Dead Man Walking' draws you in towards a a gruelling grind full of knockout blow dynamics that hit hard and heavy.
'Paper Cuts' is a ballad, but a ballistic ballad! A spotlight stealing vocal commands throughout this surefire set highlight when played live. Riffs are slow but sure for maximum effect.
'Cold Day In Hell', a bass heavy bruiser is a potent ear rattler that rumbles along towards grim warning choruses that highlight global warning and how it will affect our planet.
This crushing album closes far too soon as 'Waiting For God' is a hefty slice of doom as it stomps along around a chilling vocal and melodic guitar lines until it shifts through the gears for midway fretboard wizardry.
An album launch at a packed Trillians Rockbar on June 10th proved to be very successful by all accounts that included a set from Tysondog and I have not mentioned NWOBHM in my review, oops, sorry Kev!
Purchase links to the album and other band info are here :- https://targetshop.dk/vare/tysondog-midnight-lp-marbled-red I https://targetshop.dk/vare/tysondog-midnight-cd I https://www.tysondog.co.uk/ I https://www.instagram.com/tysondogrock/ I https://open.spotify.com/artist/1tGvg3RNz4Zn8LZW0tlfwJ?si=7tRu0LBjREeyjKOAVaaG8g&nd=1 I https://www.facebook.com/tysondog.co.uk
Midnight album track listing :-
Battalion.
It Lives.
Hellbound.
Midnight.
Defiant.
Dead Man Walking.
Paper Cuts.
Cold Day In Hell.
Waiting For God.
Tysondog band personnel :-
Alan Ross – Lead Vocals.
Kevin Wynn – Bass Guitar.
Paul Burdis – Guitar.
Phil Brewis – Drums.
Steve Morrison – Guitar.
John 'Clutch' Carruthers – Lead Vocals on the Midnight album.
Tysondog prove they still have their pedigree, point proven with new studio album Midnight recently released via From The Vaults.