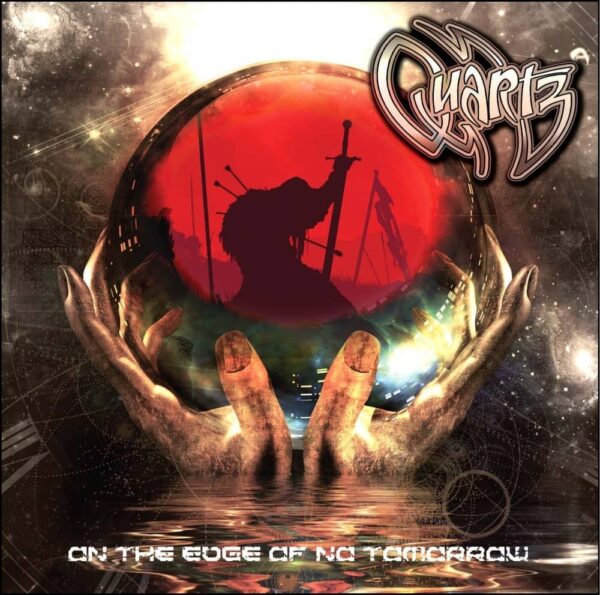 Welcome back Quartz! Starting off as Bandy Legs when forming in Birmingham 1974, changing to Quartz in 1977 and releasing their debut album of the same name produced by Tony Iommi and they supported Black Sabbath on tour the same year.
They have returned with a brand new album On The Edge Of No Tomorrow, recently released on Cherry Red Records. The current line up consists of founder members Mick Hopkins, Derek Arnold, Malcolm Cope and joined recently by Geoff Bate. The band could be classed as NWOBHM (New Wave Of British Heavy Metal) even though they preceded this genre. This fourteen track album includes nine final songs from Geoff Nicholls (ex Black Sabbath and founder member of Quartz) who sadly passed away in 2017, provided vocals on three songs, David Garner (who has left the band) three songs, Derek Arnold one song 'Keep Up The Fight', Tony Martin (ex Black Sabbath) one song 'Evil Lies' and Geoff Bate who was lead vocalist for the 1983 Against All Odds album, the rest.
Their fifth studio album opens with 'Freak Of Nature' that lumbers along on an all consuming main riff. Lyrics are snarled to add more menace as an early guitar solo is a speaker to speaker roar. It ends on an outrageous solo from Geoff Nicholls, orchestral strings and tolling bell.
'Death Or Glory' is all about the glorious riffs that bustle about the call to arms lyrics that portray the futility of war. It marches into battle on a steadfast groove that's taken on by a sumptuous guitar solo.
A real feel good number sees 'They Do Magic' open with a lengthy guitar intro. Fuzzed up riffs and prominent drum patterns tear up the tarmac leaving everything else at the starting line.
'Master Of The Rainbow' is an epic to end all epics, not just because it's a tribute to Ronnie James Dio but it's the way they've done it as a heavily riffed assault contains lyrics to honour the great man.
'Night Of The Living Dead' makes you wonder where all these killer riffs are coming from as this hairy headbanger is bashed out with aplomb!
'Evil Lies', sung by Tony Martin is a chilling ballad with balls as inventive drum patterns give it a quirky vibe that link up perfectly with the creepy vocals.
'Angels At The Crossroads' goes for the throat from the off and doesn't pause for breath throughout this rabid rocker.
'Keep Up The Fight' sung by Derek Arnold shows he's no slouch behind the mike as well as playing bass guitar as an early knockout comes from a herculean main riff.
Tribal drum patterns and a jabbing main riff are more brain mangling than washing as 'Brainwashed' is a slice of heavy doom that is peppered with fluid solos and handclaps.
'Babylon Is Burning' (not a Ruts cover of course) is another grinder that crawls along on a deathly dirge. A brief respite comes from a bluesy solo midway until it heads out to the highway for a full on headbanging outro so get those neck braces ready!
Soul searching lyrics tug at the heartstrings through 'What Love Is' for a slice of delicious melodic rock but the big guitars are never too far away.
Their Covid-19 song comes from 'Dirty Disease' that hammers down hard and heavy on a serrating riff, seismic drums and an almost preached vocal.
A huge Sabbath vibe is conjured up as 'World Of Illusion' opens with a tolling bell, suffocating rhythms and a manic Ozzy like leering vocal that creeps up on you like a musical prowler.
This stunning album closes on 'Highway To Madness', the heaviest track here with Geoff Nicholls powering out a lung busting delivery to keep up with the rest of the band hammering out galloping riffs and snappy snare work.
Purchase links to On The Edge Of No Tomorrow and other band links are here :- https://www.cherryred.co.uk/product/quartz-on-the-edge-of-no-tomorrow/ I https://www.facebook.com/QuartzBackintheBand
On The Edge Of No Tomorrow album track listing :-
Freak Of Nature.
Death Or Glory.
They Do Magic.
Master Of The Rainbow.
Night Of The Living Dead.
Evil Lies.
Angels At The Crossroads.
Keep Up The Fight.
Brainwashed.
Babylon Is Burning.
What Love Is.
Dirty Disease.
World Of Illusion.
Highway To Madness.
On The Edge Of No Tomorrow album personnel :-
Mick Hopkins – Guitar.
Derek Arnold – Bass Guitar.
Malcolm Cope – Drums.
Geoff Nicholls – Vocals/Guitar/Keyboards.
Geoff Bate – Vocals.
David Garner – Vocals.
Tony Martin – Vocals.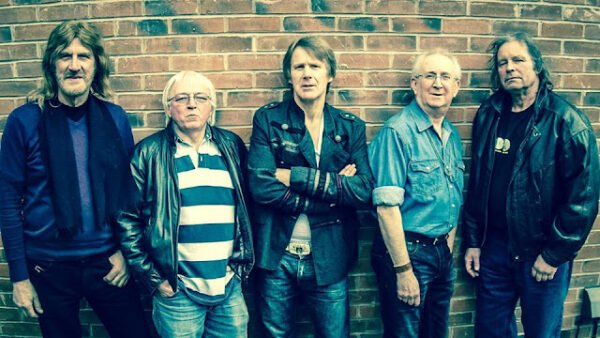 Quartz prove they are diamonds in the rough as they release the NWOBHM tinged On The Edge Of No Tomorrow album via Cherry Red Records.