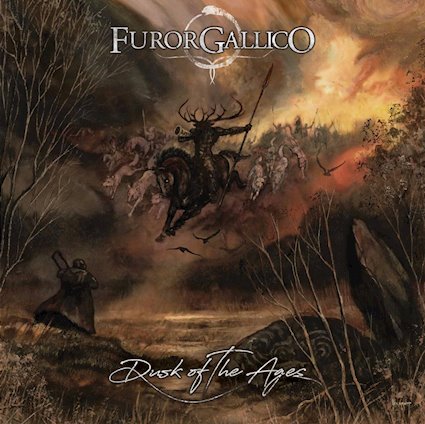 Furor Gallico brings their unique brand of Folk Death Metal to the table with the long awaited album 'Dusk Of The Ages'.
Formed in 2007, the band have honed their sound into something rather special, combining highly contrasting styles of music together to create a real breath of fresh air as far as the Death/Folk Metal genre is concerned. The use of Celtic Folk passages plays heavily at the fore of this album, yet blends in beautifully with the brutal Metal riffs and male vocal. It annoys me greatly when a so called Folk Metal band churn out a pretty banal product, using the traditional instruments and sounds purely as a gimmick and offering no substance or meaning to anything, serving only to perpetuate an image that is truly far removed from the basis of what 'proper' Folk Metal should be about. Thankfully, Furor Gallico obviously know what they are doing, and more to the point, know how to deliver it. The use of male and female vocal on the album is really well balanced, with the female solo passages offering a wonderfully ethereal and haunting quality, whilst the variance in the male vocal styles is impressive to say the least, leaping as it does from clean to growl and many points in between.
Stand out tracks (of which there are many) would have to be 'Aquane', which brings new meaning to the word epic. An amazing seven minutes plus of musical brilliance encapsulates perfectly what this band has to offer, with crunching riffs, heart wrenching strings, and emotionally charged vocals, culminating in a song that has everything you require. The superb instrumental 'The Sound Of Infinity' represents Folk at its best, sounding in parts as if it could have come straight from a John Renbourn album, yet with the level of emotion generated truly immense. The brutality of 'The Phoenix' is controlled yet untamed, both manic and melodic in the same breath. It is one of the heaviest tracks on the album and yet superbly constructed and executed.
'Dusk Of The Ages' is an album that will take you on such a journey. As a record it succeeds in combining a wide variety of instruments and sounds to perfection, creating a vivid and varied musical landscape that demands to be explored again and again. With each listen the album throws up something new and exciting, and as such is easily one of the finest releases Folk Metal will have seen for some time.
Recommended Track – The Phoenix
Album Track List ;
Passage To A New Life
The Phoenix
Waterstrings
Nebbia Della Mia Terra
Canto D'Inverno
Starpath
Aquane
The Sound Of Infinity
Dusk Of The Ages
The Gates Of Annwn
Dusk Of The Ages is released on January 18th 2019 via Scarlet Records
http://www.facebook.com/FurorGallicoOfficial/
A stunning mix of Celtic, Folk and Death Metal