There's three things that I've fallen in love with during this latest Skindred tour. The venues, Skindred's set-list and most importantly the exposure of new, raw talented bands. 'I Saw The World Burn' and 'Mr.Shiraz' are just two bands that have shone for me and tonight we had another.
Scare Tactics are a Liverpool band who have been around since about 2010.They boast an EP (Ages) and released their debut album (Legion) in 2015. They've played some pretty decent shows so far including Bloodstock 2012 and Download 2015. They've also shared the stage with the likes of Hatebreed, Kobra & The Lotus, and Tyketto. So tonight is another notch on their bedpost by supporting Newport's finest.
There was a pretty decent crowd knocking around to be fair for 7:30pm and the guys kicked off their set with a track called 'Remain'. Two things stood out almost instantaneously to me here. The similarities in this track are a strange combination of Metallica and Alice In Chains rolled into one. The track also produced some brilliant dual guitar riffing. Another track that stood out was 'Little Time'. A ballard-type intro and verse which is then dwarfed by a Pantera-style chorus. But I think the highlight of this short set has got to be 'Slave System'. This motoring tune really got the crowd going as Andy jumped up and down enticing them to do the same. A great start to the night and I'd love to catch these guys again.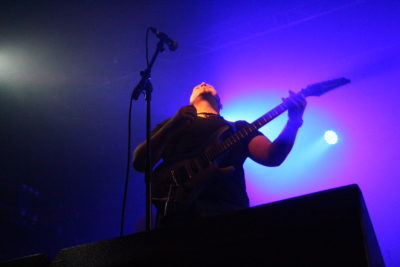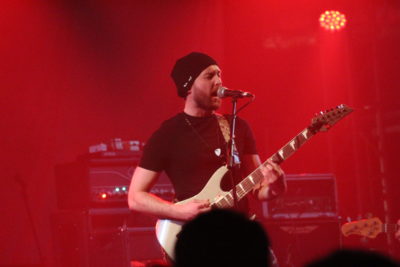 Manchester based Sonic Boom Six entered the stage with such vibrance and energy. Another band I had not seen before. These guys have everything thrown into their music. There's Ska, Rock, Reggae, Rap, hip hop and it's a pleasure to watch. Laila's energy reaches out to the crowd and in return they respond accordingly.
In all of these songs I'm hearing from Sonic Boom Six, it sounds like they have pieced every genre I mentioned above together and created this new form of music. It's fantastic, fun, and thoroughly entertaining to watch. These guys put on a brilliant show. A perfect support band for Skindred.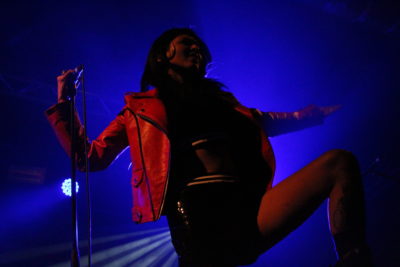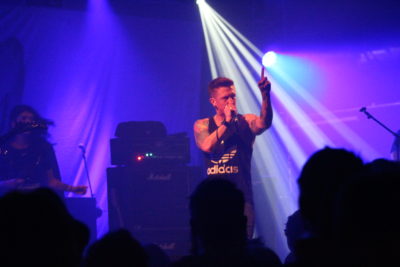 And so to Skindred. As I mentioned earlier, the one thing that lures me back to this tour is their set-list. Although relatively short at just over an hour, it's relentless in every way. There's tracks from all their albums bar 'Shark Bites & Dog Fights', with the majority coming from 'Babylon' and latest release 'Big Tings'. I must say that having heard 'Selector', 'Pressure' and 'Nobody' live, 'Babylon is now my favourite Skindred album.
Benji Webbe has got to be up there with the best front men of all time. He quickly gets personal with the crowd and the way they respond is testament to his ability to own them. The 'Eat a sandwich in 30 seconds' challenge, accompanied by the 'Countdown' music is a hilarious addition to the set of late. A guy in Milton Keynes passed with flying colours, but unfortunately tonight's contestant, picked randomly from the crowd by Benji, wasn't so lucky. He only managed half. Poor show, and Benji told him so.
'Saying It Now' (Big Tings version) follows a very sad story of one of Benji's friends who he lost to cancer. This is the only time you will catch your breathe in this Skindred set-list. This gave enough time for the mosh pit to recover for 'Kill The Power' and 'Nobody'. The pit going ballistic in the latter.
As always the guys finish with Warning which I think will always be the track everyone waits to hear. It's been another cracker of a night. Three great bands and a very supportive crowd.