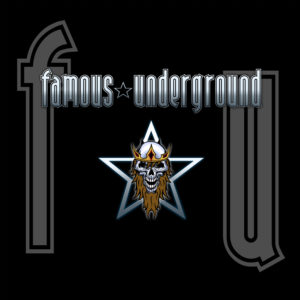 First of all, Famous Underground can pull it off live, and that's something to admire about them. What you're hearing on the album is what you're going to hear live in concert. It's not a manufactured 'Autotune' band. This is a monster group of heavyweights to watch. Plus, how can you resist a band with an offensive acronym for their band name abbreviation? FU, FU2! This 2013 disc is a loud, crisp, broad aural assault, their eponymous debut: music from a fresh Canadian band who's doing it right.
Striking that balance between aggressive heaviness and accessible 'pop' appeal is increasingly difficult in a digital music culture where the saturation point or sheer volume of musical ideas is so much lower then in the past. Songs like "Wasteland" and "Overdrive" feature big, burly riffs with lyrical themes to match. Full of subtle melody, layering, and little twists and turns to delight the ear, Famous Underground delivers: wicked chops, attitude-laden vocals, catchy songs, and in-your-face talent. It's just plain good hard rock music from those who have 'been there, done that'.
This record is definitely a band presentation, not the work of a solo artist. They have a great grasp on quality 'Los Angeles style' infused songwriting, and album sequencing. The slick, sleaze-meets-grunge edge is highly appreciated. Many of the songs are much heavier then if they'd been composed in the years they evoke. Famous Underground reminds me of the first time I heard the second Skid Row album: surprisingly heavy, much more in-your-face or harsh then you'd expect. Scene veteran Nick Walsh is not 'phoning in' his prodigious vocals, and the band isn't hacking their way through songs, hoping for passable results: they have plenty of talent, to bring a smooth and effortless edge to their songs. The band crosses through grunge, heavy metal, classic and melodic rock, and even stirs the pot a little with some acoustic reprise.
Nicely mixed and mastered, the album's tunes allow everyone's skills to shine. From Walsh's gritty, dynamic, sandpaper-edge vocal to what sounds like a triple guitar attack: Walsh plus Rick Corvese and Darren Boyd on some tunes, from Desche Sparboom's rumbling double-bass drum to the emphatic bass guitar licks of Laurie-Anne Green, the band brings us their brand of heavy-hitting hard rock. To hammer home their theme that they aren't a one-trick heavy metal pony, the acoustic renditions of other tunes at the end of the album are well-arranged and delivered with an uncommon conviction.
One of the album's highlights is the cheesy '80's power ballad "Forever And A Day": precisely because it's so well-done, so effective at evoking memories of those idyllic days past. It isn't something for everyone, but it does what it does, the most clearly, or 'the best': it recalls a time period. Think "Love Of A Lifetime" to get pretty close to that mood and vibe. These guys have earned their stripes (not to mention the '93 Juno!), and their right to record and play such an audacious tune, in this day where 'mean' sells and this style is oft-dismissed. It's music in that vein that filled arenas back in '87-'90, making international stars out of some of rock's finest players: Nuno Bettencourt, Andy Timmons, Billy Sheehan, and others.
For all that it is, here is what it is not: 'genre defining', or iconic. It's orderly: on first listen, at the ballad's close, I said 'okay, now kick my ass' and the next tune came right in — an asskicker it was! For a band who is looking for 'unpredictability', mixing up the sequencing might be an avenue to explore. "Mommy Is A Junkie", (one of the heaviest) and arguably the best tune on the album, is part-and-parcel "Welcome To The Jungle" in vocal phrasing, which is what makes it just as effective and emphatic as …Jungle's' was for W. Axl Rose and his cronies back in the day. It is an appealing, solid album that will put these players on a lot of maps, for good reason. It has a lot of things to offer, a lot of real talent on show, and a lot of music to love. What's strange, is that some of the tracks sound like they were taken from different points in time, but a good mastering job seems to have leveled out most of it. Don't listen to it 'too loud' or you might miss some of the dynamics or nuances in Walsh's vocals. If you're looking for hard-edged, provocative music that will get your blood moving, this is definitely a fitting choice.
Track list:
Wasteland
Overdrive
Dead Weight
Love Stands Still
Forever And A Day
Necropolis
Wheel Of Misfortune
Mommy Is A Junkie
On Broken Wings
Bullet Train
Hell To Pay
Bonus alternate tracks:
Dead Weight (acoustic)
On Broken Wings (reprise)
Band Line-up:
Nick Walsh – vocals
Laurie-Anne Green – bass
Rick Corvese – guitars
Darren Boyd – guitars
Desche Sparboom – drums
Links:
Official Band Website
Official Band Facebook Page
Official YouTube Channel
Official Band Twitter Page
The dynamic debut release by Famous Underground, reviewed here by Iris North.