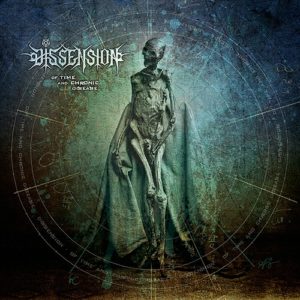 Canada's Dissension have released a ten-song, fifty-minute concept album, Of Time And Chronic Disease.
Combining elements of symphonic black, gritty death, burly power, and raging thrash metal, it offers sonic shocks to a diverse palette.
Fans of second-wave symphonic metal (contemporaries to Dimmu Borgir, Cradle Of Filth, et al) ought to really enjoy this uncommonly melodic album.
The keyboard effects tend to distract; the remainder of the instrumentation and arrangement is solid. Six years in creation, professionally produced, and with three tunes reworked from a 2011 debut, this album should be perfect.
With some focus, this band shows bright promise.
Track Listing:
Thralls To The Crucified
Graceless Death
Blacksteel
Brutality
Set To Kill
Legacy
Dreamsong Of The Divine
Of Time And Chronic Disease
Dissension
Apotheosis
Band Lineup:
Nathan Afilalo – Vocals, Guitar (rhythm)
Matteo Conti – Guitar (lead)
Oli Aveline – Bass
Anthony Pulcini – Drums
Andrew Proppe – Keyboards
Links:
Official Band Bandcamp Page
Official Band Facebook Page