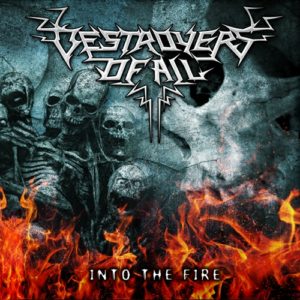 Rare is the band who grasps the concept of 'storming out of the gate' with a killer debut that meshes great musicianship, good songwriting, and top quality production.
Portugal's Destroyers Of All offer a left-of-center metal assault, combining technical proficiency with catchy riff arrangements and songwriting, to deliver an incendiary EP, Into The Fire.
Musically, they're 'all over the place' diverse, incorporating everything from acoustic guitar and progressive passages, shattering thrash attacks, hateful core screaming, to black metal blastbeats.
If you like your metal hard, heavy, intense, and definitely not 'the usual fare', this band is worth repeated, LOUD listening.
Track Listing:
Beginning Of The End Intro
Soul Retrieval
Into The Fire
M4
Astral Projection
Nothing Left