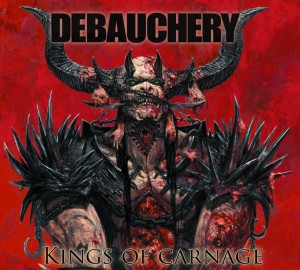 Debauchery have been hacking and slashing their brand of blood soaked, gore driven Death Metal for some ten years now and show no sign of fading meekly into the mincing machine either if this album is anything to go by. Hack, slash, kill being the overriding theme dominating the album.
With titles such as "Demonslayer", "Let There Be Blood" and "Killerbeast" you instantly get a feel for what's in store but to see the band as a one trick pony or gimmick is to do them a great injustice. For a start, this is an album that packs a serious punch, I can see where the Death Metal tag is appropriate but musically, the band cover a lot more ground. The title track for instance is a glorious homage to 80's Metal riffs, delivered expertly well. "Man In Blood", another killer track if you'll pardon the pun, chugs along at a very Airbourne like pace and is actually quite a radio friendly sounding song.
The band continue to court controversy, whether via the subject matter of their videos or the lyrical content but push all that aside and you're left with a damn fine Metal act who know how to deliver the goods, "Murder Squad", for example is an absolute stormer of a track, over flowing with sonically charged riffs that punch you in the chest, it really couldn't get much better than this.
If you're looking for atmospherics and soul searching lyrics then this is probably not the album for you, I lost count of the times the word 'kill' crops up but listen, Debauchery have been around long enough to know a winning formula when they see one and when it's done correctly , it sounds pretty damn good. Album closer "Debauchery Motherfuckin Family" says it all really, fast paced, head banging, party fuelled Metal that is difficult to resist.
This is an album that will appeal to most if not all Metalheads, based on the fact that the band deliver all the crucial elements required in a really professional way but with a cheeky, tongue in cheek vibe to boot. Well worth shelling out a few Euros for.
Track Listing;
1. Coming Of The Dragons
2. Demonslayer
3. Let There Be Blood
4. Killerbeast
5. Kings Of Carnage
6. Man In Blood
7. Blood God Kills
8. Victory Awaits
9. Murder Squad
10. The Last Crusade
Debauchery are;
Thomas – Vocals
John – Guitar
Bob – Drums
Out now via Massacre Records
https://www.facebook.com/Debaucherykills