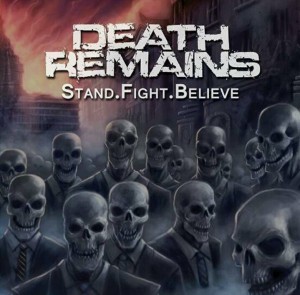 Now and again an album comes along that crushes your preconceptions under the heel of your size 11 New Rock boot…
Just as I was sincerely starting to believe that almost every new young band coming out of mainland Great Britain was content to churn out second-rate, copycat emo-core nonsense, London's Death Remains submit a CD which quite literally rips the woofers from the speakers here in PM's Belfast outpost.
Firmly rooted in the metalcore sound pioneered by the likes of Killswitch Engage, 'Stand… is a powerful album filled with powerful songs and powerful performances:  each of the five members performs with exemplary skill, passion, precision and ferocity, and the songs are all extremely well-constructed, with the right balances of power and melody, light and shade on each of the 11 tracks.  Special mention must be made of vocalist Barry O'Connor, whose throat-shredding delivery is as impressive as any I have heard since the first KSE album,  and to drummer Jal Patel, who summarizes all of my previous points with aplomb and character.
This is how good this album is:  a week or so ago I was DJ-ing between bands at a local club, and stuck 'Work Sleep Repeat' on early in the evening… a couple of guys came up and asked the name of the band, and when told, instead of wandering off nodding their heads in a "I must check them out but won't remember their name in the morning" kind of way, immediately demanded I play another track…
Death Remains are a band prepared to stand up for what they believe, and to fight for it… stand alongside them.
[youtube=
http://www.youtube.com/watch?v=JzBThVS5EfE]
Track list:
Work Sleep Repeat / Martyr's Dream / Carriers / Blood Brothers / The Northern Line Massacre / Stand. Fight. Believe / The Last Good Fight I'll Ever Know / A Cold Farewell / Innocence / Proof Of Life / Cincinnati Bowtie
'Stand. Fight. Believe' is out now on In At The Deep End Records.  To buy your copy, click on the Amazon banner at the top of the page.