Whether we believe in it or not, like it or otherwise, the so-called "festive season" – when everyone is supposed to be nice to each people we loathe and despise for the rest of the year, indulge in rampant consumerism, eat horribly overcooked poultry for days on end, and whatever else we're supposed to get up to in the name of some small brat allegedly born on the most unlikely of dates a couple of millennia ago – is almost upon us…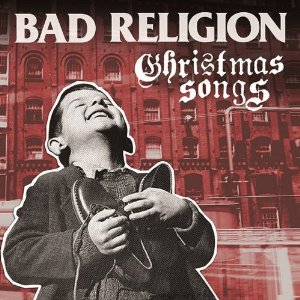 This also means, of course, the inevitable over-indulgence, not only in faux sincerity but in Christmas albums – and, surprisingly, among the first out of the blocks this year are the unlikely punk icons Bad Religion, with this collection of eight "seasonal classics" (plus a remix of their classic 'American Jesus', appositely and appropriately pinned onto the end of this reverentially irreverent contribution to the annual merriment).
Perhaps it should not be a surprise that these LA veterans should go down this route:  vocalist Greg Gaffin actually started his singing 'career' as a choirboy – and even won a scholarship to a choir school!  With life seemingly turning full circle, it's understandable why the singer's songwriting partner, Brett Gurewitz, would describe 'Christmas Songs' as possibly being "the most subversive album we've done".
So, does a band who have made their name for their distinctly humanist stance actually succeed in delivering a set of songs which, as Gurewitz asserts, "indirectly state that this music, and thus the world, can be powerful and beautiful stripped of god and religion" which "a non-religious band like Bad Religion can perform with as much power and feeling as anyone"?
The answer is yes.  And very much so.  As a confirmed anti-theist, I must admit that I thoroughly enjoyed this album… casting aside the religious sentiments behind the individual tracks, BR succeed in stripping them back to their rawest, most basic structure and injecting them with a venomous, punk-fuelled ferocity.  Graffin's vocals are stunning throughout, filled with both passion and irony to help deliver an album which proves that, no matter the subject matter concerned, good, well-structured songs stand the test of time immemorial and lend themselves to even the most radical of treatments.
A tremendously fun, irreligious, ironic romp.  Now, pump granny with a couple of glasses of QC on Christmas afternoon, fire up the stereo and get the oul' doll shaking her blue rinse…
Track list:
Hark! The Herald Angels Sing / O Come All Ye Faithful / O Come, O Come Emmanuel / White Christmas / Little Drummer Boy / God Rest Ye Merry Gentlemen / What Child Is This? / Angels We Have Heard On High / American Jesus (Andy Wallace Mix)
Recommended track:  God rest Ye Merry Gentlemen
'Christmas Songs' is out now via Epitaph Records.  You can buy your copy by clicking on the Amazon banner at the top of the page.