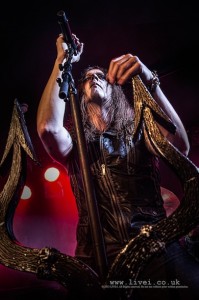 There are times as a music journalist when you want to cast aside the notebook and its pages of extraneous adjectives and hyperbolae and strip a review down to your most basic primal reaction to the event you have just witnessed… in the case of this evening's debut Belfast performance by Norwegian black metal legends Satyricon, that response could be summed up in just two words:  "HOLY FUCK!"  Certainly, that was the emotion which my body has been screaming since the last note died in the Limelight's sound system after this barrage which took every sinew, muscle and scrap of humanity in the collective bodies of those present, fed them into a giant blender and spat them, wriggling and gyrating, out the other end.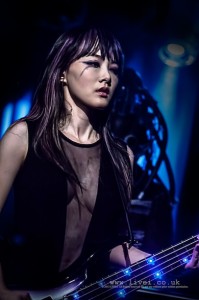 It was a double first for both bands on tonight's bill, as Taiwan's Chthonic were also making their debut appearance in this part of the world… in fact, it was doubtful if the band were even going to make it onto the tiny stage, as Frost's humungous kit dwarfed everything in sight:  Dani Wang's set up looked positively childlike beside the mass draped percussion dominating the room, while Jesse Liu actually had to perch his guitar amp on the edge of the adjoining DJ booth!  However, the Oriental quintet clearly were not ones to be intimidated easily, and they quickly found their stride to deliver a high-energy set of passionate and violent progressive death metal.
While many eyes may have been on Doris Yeh's rather revealing costume, many more were on her distinctive bass and the precision with which she delivered her ferocious barrage of technically stunning musicianship, underpinning Liu's at times struggling (volume-wise) guitar lines and complemented by both Wang's precise drumming and CJ Kao's atmospheric keyboard interjections.  Up front, Freddy Lim was clearly enjoying himself – the fact that they had earlier found a noodle bar right around the corner from the venue clearly had put them in a good mood – and quickly had the audience eating out of the palm of his hand as they blasted through their impressive and well-received set.
Setlist:
Supreme Pain For The Tyrant / Sail Into The Sunset's Fire / Southern Cross / Next Republic / Set Fire To The Island / Defenders of Bú-tik Palace / Takao
https://www.facebook.com/chthonictw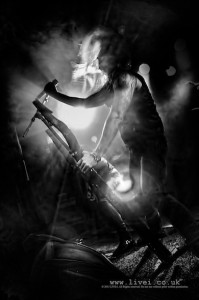 Earlier in the day, Satyricon had referred to the "need to cover 20 years of Black Metal in one night" for this, their Belfast debut – and then had gone on to predict "we shall pull it off. With ease!"  And, it was a prophecy they fulfilled, with plenty of room to spare, as they delivered an absolutely blinding set which truly set the standard not only for BM performances but for metal as a whole.  Building the momentum slowly with 'Voice Of Shadows' and then the winding epic sweep of 'Hvite Krists Død', Satyr towered over the crowd, exuding both confidence and majesty in equal amounts and proved how much more convincing black metal can be when its purveyors are not hiding behind unnecessary layers of corpse paint;  almost invisible behind his huge kit, Frost performed with an ease and dexterity that combined power, passion, ferocious 180 bpm blastbeats and a precise, almost deft, technicality. The rest of the band – led by long time bassist Anders Odden, who has the uneviable task of holding down the bottom end of Frost's immense performances each and every night – performed with energy and zest, with rhythm guitarist Diogo Bastos quickly lathered in more sweat than a thoroughbred racehorse.
Dipping into their extensive back catalogue as appropriate, by the time they reached the first of the set's new songs, 'Our World…' it was clear that the dark rumble on the horizon was that of the impending apocalypse, while 'Nekrohaven' confirmed that annihilation was imminent.  By the time the first encore of 'Mother North' hit, the audience was so hoarse they could barely sing, but managed to raise their voices high at their master's command, while 'Fuel For Hatred' was suitably incendiary and 'K.I.N.G.' ended the night on an appropriately majestic note, with Satyr holding his band back for a full five minutes before taking his final bow (with a promise to return).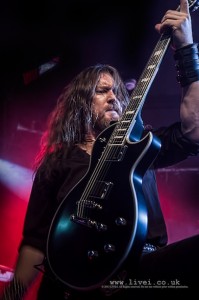 It may have been freezing cold outside, but inside the warmth of the occasion and the fire of Satyricon's performance will keep a flame burning in the souls of Belfast's metallians for quite some time to come…
Set list:
Voice Of Shadows (intro) / Hvite Krists Død  / Now, Diabolical /  Black Crow On A Tombstone / Our World, It Rumbles Tonight / Nekrohaven / Repined Bastard Nation / Walker On The Wind / The Infinity Of Time And Space / Forhekset / To The Mountains / The Pentagram Burns
Encore:
Mother North / Fuel For Hatred / K.I.N.G.
[youtube=
http://www.youtube.com/watch?v=i5GhFL0OWq8
]
'Satyricon' is out now on Roadrunner Records.  To visit Amazon's Satyricon store, click on the banner at the top of the page.
https://www.facebook.com/SatyriconOfficial
Photographs by Paul Verner.  Check out more photographs at http://planetmosh.com/satyriconchthonic-limelight-2-belfast-111113/