Cirith Ungol – Forever Black
Cirith Ungol define the meaning of being a cult band. Formed in 1971 in Ventura, California, their four studio albums they ground out before splitting in 1992 were heavy doom laden monsters. After a long hiatus they reformed in 2016 and fast forward to the present day sees them back in the studio to record their first new material in twenty nine years, courtesy of Forever Black, released on April 24th 2020 via Metal Blade Records.
Only drummer Robert Garven is left from the original line up but these five noisemongers kick up a storm as Robert rightly describes the band as "A churning metal maelstrom of metal chaos descending". The album opens up with 'The Call', a brief, chilling instrumental giving a charge into battle vibe. 'Legions Arise' should wake up any legion due to its full blooded metal gallop. A relentless wave of riffing is backed by a drill sergeant roared vocal from Tim Baker. 'The Frost Monstreme' is a punishing pound that brings the pace down to a leaden dirge. It gains speed midway to head off into headbanging tempos.
'The Fire Divine' is a cranium cracking crunch of Thor hammer drum assaults and bass guitar bludgeon. Guitars add some tasty twin leads to a full on drum driven outro. A gentle acoustic intro that's the calm before the storm as 'Stormbringer' turns into a doom like pulse backed by a glass gargled vocal. Undulating riffing peppered with bursts of wah-wah guitar up the heaviness ante for 'Fractus Promissum'. The title of 'Nightmare' reflects the dark vibes it sends out to dominate this hellish hymn for the damned, delivered to them by vocals at their most demented.
'Before Tomorrow' drags along like walking through thick mud and manages to grind even slower for an oxygen sucking midsection of brick heavy blues. 'Forever Black' is one last assault of leaden grooves. It's no frills warts and all metal hammered out with no respite as Tim spews up his most evil vocal.
Forever Black album track listing :-
The Call.
Legions Arise.
The Frost Monstreme.
The Fire Divine.
Stormbringer.
Fractus Promissum.
Nightmare.
Before Tomorrow.
Forever Black.
Cirith Ungol band line up :-
Robert Garven – Drums.
Greg Lindstrom – Guitar.
Tim Baker – Lead vocals.
Jim Barraza – Guitar.
Jarvis Leatherby – Bass guitar.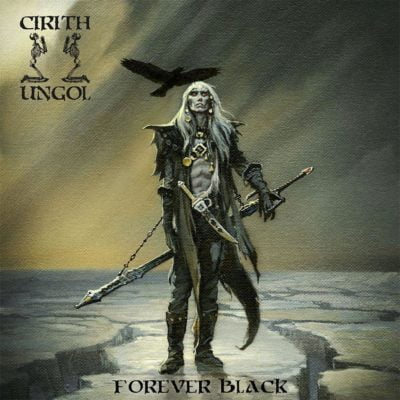 Cirith Ungol are forever back in black.