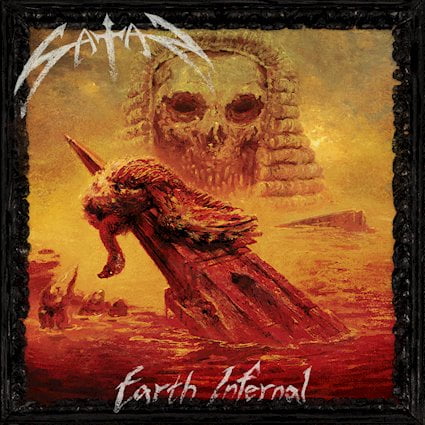 Purchase links to Earth Infernal and other band links are here :- http://www.satanmusic.com/ I https://satanuk.bandcamp.com/merch/satan-earth-infernal-12-dark-goldenrod-marbled-vinyl-pre-order-limited-to-200-copies I https://www.instagram.com/officialsatanpage/ I https://twitter.com/SatanUK I https://www.youtube.com/channel/UCSbeKlif3K7LMsVO2M-kAPw I https://amazon.co.uk/Earth-Infernal-Satan/dp/B09RV37J41/?tag=plane09-21
Newcastle Upon Tyne NWOBHM stalwarts Satan return to melt our ears with their recently released sixth studio album Earth Infernal via Metal Blade Records. Formed in 1979, split in the early 90's and thankfully reformed in 2011.
The album opens up with a clarion call riff for 'Ascendancy' to introduce the trademark operatic vocal prowess of Brian Ross who still hits those glass shattering notes after all these years. Speed metal tempos race towards twin guitar mania as Brian pitches even higher for a breathtaking outro.
Strap yourselves in for the bombast of 'Burning Portrait'. You can run but you can't hide from Brian hollering over laid back choruses, hypnotic rhythms and fretboard burning guitar solos.
Buzzsaw riffing drive 'Twelve Infernal Lords' towards wrist snapping snare drum mania. Heavy metal at its fists in the air potency.
'Mercury's Shadow' is a brief instrumental of acoustic chops until it shifts into pit opening headbanging overload.
Drums reign supreme once more for 'A Sorrow Unspent' as they raise the bar high to levitate this song to thrilling thrash metal rage as Brian delivers his vocals at the same speed.
A lengthy intro is worth the wait for 'Luciferic', a hairy hard rocker fuelled by ridiculously fast twin lead fury.
Another blink and you'll miss it first over the finish line monster is the ranting and raving lunacy of 'From Second Sight'.
More snappy snares fuel the fire to ignite 'Poison Elegy', a certified crowd favourite in the making!
Unbelievably they manage to surpass it with 'The Blood Ran Deep', a masterclass of metal served up with a good dollop of melody.
Track ten 'Earth We Bequeath' rounds up this perfect ten album with an over the top performance to leave you wanting for more. A ballistic intro careers towards a militaristic march as it seismically stomps its way to a crushing finale.
Earth Infernal album track listing :-
Ascendancy.
Burning Portrait.
Twelve Infernal Lords.
Mercury's Shadow.
A Sorrow Unspent.
Luciferic.
From Second Sight.
Poison Elegy.
The Blood Ran Deep.
Earth We Bequeath.
Satan band line up :-
Brian Ross – Lead Vocals.
Russ Tippins – Guitar.
Steve Ramsey – Guitar.
Graeme English – Bass Guitar.
Sean Taylor – Drums.