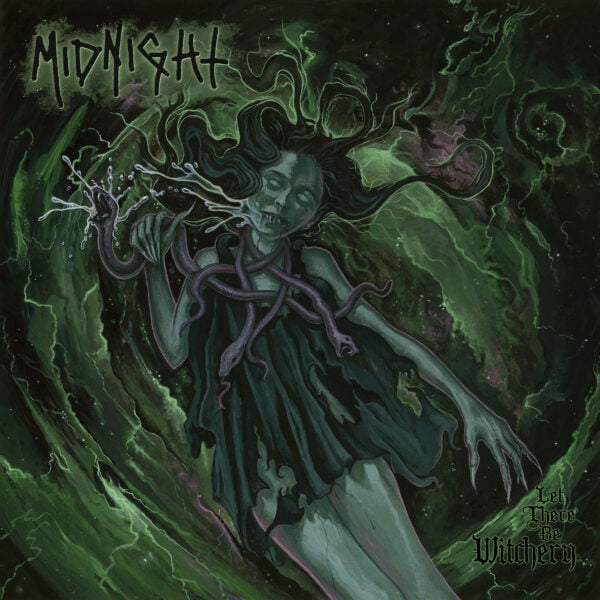 Purchase links to the album and other band info are here :- http://midnight-ohio.bandcamp.com/merch I http://totalmidnight.webs.com I https://www.facebook.com/midnightviolators I https://www.instagram.com/midnightviolators/ I https://www.youtube.com/channel/UCzwLkrb_znW0NERVI5rOBlg I https://amazon.co.uk/Let-There-Be-Witchery-Midnight/dp/B09QNNDJP3/?tag=plane09-21
Midnight came early today, courtesy of Cleveland, Ohio based skull crushers Midnight. Formed in 2003 by Athenar, this one-man-band have just released their fifth studio album Let There Be Witchery via Metal Blade Records. The press release describe them as "Filthy, belligerent and obnoxious" and they're not far wrong judging by the power of these ten songs, point proven by album opener 'Telepathic Nightmare'. Imagine a demonic Motorhead and you're halfway there as a sedate operatic intro backed by a grinding riff heads off into a guttural blastbeat driven slice of insane doom metal at its fiendish best. This three minute assault is totally captivating as it rants and rages with no compromise.
'Frothing Foulness' is hellish heavy metal that oozes thick hypnotic grooves. It's an unrelenting listen all pinned down by a lung shredding guttural roars, a speed metal guitar solo and ends on a seismic rant.
NWOBHM meets melodic thrash as 'In Sinful Secrecy' heads on for a headbangingly riotous three minutes of insanity, especially when a razor sharp solo kicks in.
Twisted Sister vibes run all the way through 'Nocturnal Molestation', a raise your fist in the air anthem in the making with an instantly hummable main riff that steals the spotlight.
Pure evil erupts from 'More Torment' as its poisonous veins burst for a devastating piece of death metal that lumbers along on tortuous grooves that brought to mind early Celtic Frost.
An earworm main riff is an instant highlight as 'Let There Be Sodomy' locks in tight via a masterclass of kick drums and all hell breaks loose midway from an air guitar inducing guitar solo.
'Devil Virgin' is sheer battle metal euphoria that shines bright throughout this bullish banger as the lyrics are delivered with an evil glee.
Gallons of venom are spat out during 'Snake Obsession' as this out of control rollercoaster ride of thrilling thrash metal careers along, backed by an eerie demonic vocal.
Bass guitar heavy body blows hit hard and heavy throughout 'Villainy, Wretched Villainy' as this power metal pounder has a sense of calm that comes from a twin guitar break midway.
This cataclysmic album draws to a fiendish close as 'Szex Witchery' provides a second helping of NWOBHM. An 'It's Electric' like main riff drives this metal as fuck song along on demolition ball destroying power but the song closes on a doom dirge!
Let There Be Witchery album track listing :-
Telepathic Nightmare.
Frothing Foulness.
In Sinful Secrecy.
Nocturnal Molestation.
More Torment.
Let There Be Sodomy.
Devil Virgin.
Snake Obsession.
Villainy, Wretched Villainy.
Szex Witchery.
Midnight unleash their inner demons like a musical exorcism throughout the Let There Be Witchery album.