Bisongrass, a heavy metal band from Scotland and not bovine informers channel their inner Mastodon, a band not an extinct mammal with their single 'The Beast Of L.A', probably in Los Angeles than lower Aberdeen! I was lucky to see them supporting Anvil at the Cathouse in Glasgow 2013, giving the headliners a hard act to follow.
It's not for the faint hearted as these four frantic minutes are of wrecking ball power of superhuman riffing, insane drum patterns and air, not Ayr, but air raid siren vocals.
On a lighter, Spinal Tap moment, on May 27th 2023, Bisongrass played inside a HMV store in Aberdeen that was prematurely stopped by local police, hilariously reported as "HMV gig stopped. Coppers have beef with metal band!"
Band, not banned links to Bisongrass are here :- https://www.facebook.com/Bisongrassmetal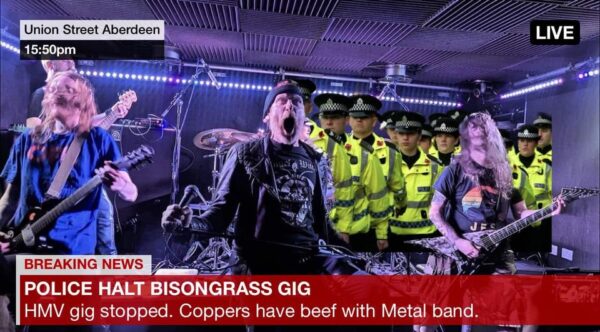 Bisongrass band personnel :-
James Dron – Guitar.
Aaron Rodger – Guitar.
Paul Samat – Drums.
Gareth 'Farmer' Giles – Bass Guitar.
Marky 'Mark' Craig – Lead Vocals.
Have you heard, not herd about how heavy 'The Beast Of L.A is by Bisongrass? No? Then crank it up!