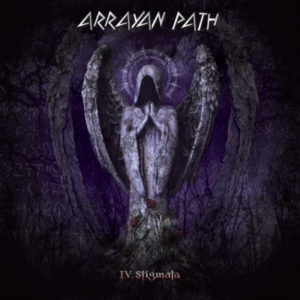 Cyprus' Arrayan Path's fourth offering treads the well-worn path of religious symbolism but triumphs where others have been crucified.
From the arpeggiated thrash power of "Clepsydra" to the darkened balladry of "Stigmata" via the Maiden-esque "Pharaoh's Wish", their strength is with the musicianship on show.
Combining blistering solos, memorable choruses and more mid-tempo, than frenetic arrangements, they steer clear of power metal stereotypes and use virtuosity to enhance, rather than dominate their sound.
On IV:Stigmata, Arrayan Path may have done enough to rise above the quagmire of power metal mediocrity and taken steps towards epic grandeur.
Tracklisting:
01. Clepsydra
02. The Bible Bleeds
03. Midnight And The First-born Massacre
04. Judas Iscariot
05. Stigmata
06. Cursed Canaan
07. Pharaoh's Wish
08. Harbingers Of Death
09. Disguising Your Soul
10. The Storyteller
11. Mystic Moon (CD bonus)
12. Charming Paranoia (download bonus)
Arrayan Path are:
Nicholas Leptos – Vocals
Socrates Leptos – Guitars
George Kallis – Keyboards
Paris Lambrou – Bass
Stefan Dittrich – Drums
Links:
https://www.facebook.com/arrayanpath