I first saw The Graveltones performing live supporting the band Stonerider, and then with Rival Sons a few times earlier this year. What impressed me about their live performances is the amount of noise and rhythmic sounds that the two Aussie band members Jimmy O and Mikey Sorbello produced as a twosome. With thunderous drumming from Mikey and huge blues fuelled rock and roll riffs from Jimmy, it was inevitable that something big was about to happen for them. One EP down and now with their debut album about to be launched worldwide, here are my thoughts on The Graveltones debut album "Don't Wait Down".
The dynamic Aussie duo start us off with a rip-roaring opener of a track. "Bang Bang" sounds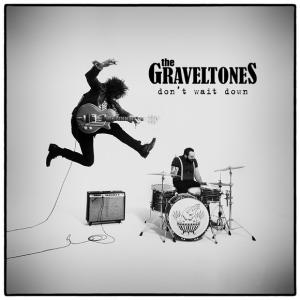 like an old sixties rock and roll classic with a subtle hint of punk thrown in for good measure. Catchy, funky grooves and great riffs, which is something The Graveltones have excelled at ever since the release of their debut EP a couple of years ago.
"Dying On Your Feet" is a track I have heard Jimmy and Mikey perform when out on the road supporting Rival Sons in the spring of this year. This has a more classic rock riff, and again the slight punk element is noticed at times here. The various sound styles are a feature that is noticed more so when listening to their full length album. In fact there are quite a few different musical styles and influences which can be detected when listening to this album (more about that later). Subtle keys can be heard in the background to this track which also brings in a different dynamic and enhances the richness of audio to my listening pleasure!
"St. Lucia" has Jimmy producing some deep chunkier riffs, with a more bassy tone coming from his guitar. Again it's the use of additional instruments in the background, such as the Organ here that adds that extra dimension, and brings with it an almost psychedelic-punk quality.
What I do love about this album is that as much as it is primarily a couple of guys knocking out some huge great riffs, beats, rhythms and melodies, The Graveltones do manage to produce a diversity in range and assortment of sounds. Even more so than their EP release. To my ears The Graveltones even manage to sound progressive in several places, and this is clearly demonstrated in the track "Crime To Be Talkin". This starts off with a gentle tribal sound. Easy drum beats, some piano keys and harmonising vocal oooooohs. This builds towards the second half of the song where it lets rip into distorted guitar riffs and the gritty powerful vocals of young talented singer/songwriter Lauren Tate in a duet with Jimmy O. The two vocals together compliment each other extremely well and brings about a sweet moment if a bit brief, but lovely to hear.
One of my favourite tracks "Lightening Bolt" is a great Hard Rocker. Huge riffs again, along with catchy chorus. It's a great sing along song and the drums from Mikey are just immense throughout this track. It does somewhat put me in mind of Lenny Kravitz with the riffs!
Now this album is full of surprises and I never thought I'd hear a kind of progressive ballad from The Graveltones, which does put in my mind Pink Floyd's The Wall quite a bit in the music, and lyrical style with the track "I Am a Liar". There's no huge drums and riffs in this. This is mainly simple piano and the haunting tones of Jimmy O, with subtle backing vocals. Superb!
The huge heavy hard rock riffs and classic sounds from Jimmy O continue into "You're No Good" This is freaky shit territory here now. At first listen I thought this had a Zeppelin feel with bluesy sounds throughout and again another favourite of mine from the album. Then it eventually dawned on me, this is a Bob Dylan song! I had heard before how much an influence Dylan had on Jimmy O, but it just didn't sink in at first. This is an immense unbelievable heavy cover! It's hard to explain it in words but it grabs you by the balls and keeps hold throughout without letting go. The drums from Mikey reinforce the issue and don't give up until the end.
"Catch Me On the fly" was the first track let loose by The Graveltones from this album a few months ago, and is simply a beautiful classic Rock and Roll tune. It has a nice groove and one you could dance and tap your toes to. This is a lot of fun. Bit of 60's rock and roll and perhaps a cross between The Rolling Stones and Elvis! It is instantly likeable and one I'm sure that will go down well live!
Last song "Six Billion" is a real gem. Again the progressive element for me kicks in. With Pink Floyd elements and soundscapes, this took me to a lazy dreamy like state. It is a fantastic song and very much blues based. It meanders slowly along until halfway through where superb drums and blues guitar solo kicks in. The keyboard elements adds an extra dimension in places, and this is an ideal way to round off really, what is a superb flawless album.
I was debating a lot on the overall score. Is it a 9 or is it a 10? I decided to go with the latter for a few reasons. 1) The album flows nicely along with not one bad track amongst it. 2) There is a rich, diverse multiple array of sounds that come through, with a variety of different styles from Blues, Hard Rock, Punk, Folk, Rock and Roll to even Progressive, which was a nice surprise to me. 3) Anyone who covers Bob Dylan and manages to make it sound like one of the best Dylan covers around deserves rich rewards!
"Don't Wait Down" is an album that sounds like The Graveltones I knew but also throws in plenty of surprises, and for that I would recommend this as one of the top albums to own this year. Go and purchase yourself a copy of this and enjoy immensely! Then go and see this dynamic duo live and feel the raw power and energy for yourself.
Track List:
1. Bang Bang
2. Forget About The Trouble
3. Dying On Your Feet
4. Crime To Be Talkin'
5. St. Lucia
6. You're No Good
7. Money
8. Lightning Bolt
9. I Am A Liar
10. Catch Me On The Fly
11. Never Going Back
12. Six Billion Blues
"Don't Wait Down" is set for worldwide release on October 21 via Lagoon Dog Records, distributed by Risk Entertainment.
Visit The Graveltones at:
http://www.thegraveltones.com/
https://en-gb.facebook.com/thegraveltones
https://twitter.com/Graveltones
Watch the official video to "Catch Me On The Fly" here:
http://youtu.be/3MGXu0Fm1GA