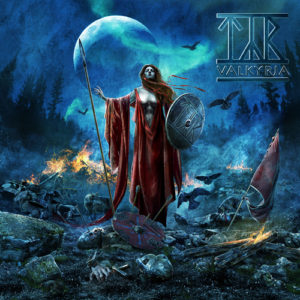 Faroe Islanders Týr may find themselves, by the fate of geography, isolated on the northern outskirts of Scandinavia but this, their seventh album, proves once again that they are very much at the centre of the particularly geocentric folkloric mythos which has helped this particular sub genre very much re-establish itself in the both the consciousness and subconscious of true metal fans.
Based loosely around a minor story from within the Nordic 'Edda' canon, 'Valkyrja' is, by and large, a fairly standard, and admittedly restrained, exemplar of the folk metal ethos.  However, it is its restraint which works:  the material relies on the strength of the storyline it recites to drive the narrative of the album forward, without the distraction of the needless multi-layered guitar shredding exercises which so often plague offerings such as this.
That's not to say that there are no guitar solos:  and those that there are, such as that on 'Another Fallen Brother', are done with aplomb and subtlety, and fit perfectly into the overall feel of the album
Highlights include 'The Lay Of Our Love', a beautiful ballad which draws natural comparisons with the likes of, particularly, Leaves Eyes in its haunting mix of male and female vocals against a backdrop of a warcry of a bass riff, the inspiring 'Into The Sky' and the superb 'Fa'nar Burtur Brandaljo'd'.
Tracklist:
Blood Of The Heroes / Mare Of My Night / Hel Hath No Fury / The Lay Of Our Love /Nation / Another Fallen Brother / Grindavi'san / Into The Sky / Fa'nar Burtur Brandaljo'd / Lady Of The Slain / Valkyrja / Where Eagles Dare / Cemetery Gates
'Valkyrja' is released on Metal Blade on September 16.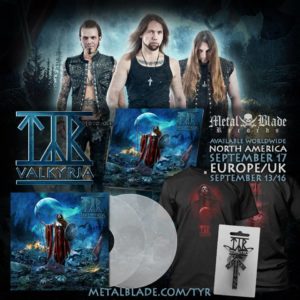 Týr play the following dates in the UK and Ireland with Finntroll:
Monday September 30 – Epic TV Studios, Norwich
Tuesday October 1 – Classic Grand, Glasgow
Wednesday October 2 – NQ Live, Manchester
Thursday October 3 – The Pint, Dublin
Friday October 4 – The Robin 2, Bilston
Saturday October 5 – The Garage, London
https://www.facebook.com/tyrband