UK easycore crew A NEW HOPE are on the rise. The band have dropped their ultra-hooky new single, The Triggering, out now via all platforms. The tuneful riff merchants have also released a video for the track, here – https://youtu.be/VRtR8o9_VyI . With this in mind, we asked the band about their beginnings and more: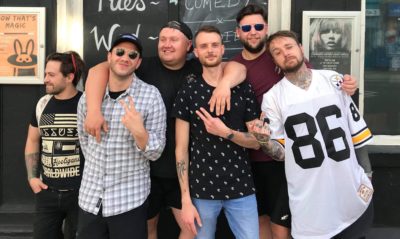 What is the full band line-up, who sings and who plays which instrument?
Josh Elliot – Vocals
Ben Mercer-Starr – Guitar
Ali Ward – Guitar
Jamie Holmes – Bass
Braydie Haskell – Electronics
Chris Sheen – Drums.
How and when did the band form? Tell us anything interesting about your hometown.
The band formed in 2017, from the remnants of several other bands. Jamie (bass) had always wanted to form a pop-punk band, and enticed metal guitarist Ben and vocalist Josh into the band by naming it A New Hope, after the Star Wars film.
When and how did the band really start gelling and solidifying?
The band really solidified when Ali (guitar) joined the band. The first time he met Josh, they both got matching A New Hope tattoos from Jamie. That kind of sealed the deal and we knew we had to make a go of it.
Who are your musical influences?
A Day to Remember, Four Year Strong, Chunk No Captain Chunk, Issues, New Found Glory
How far back does your history with each other (the band members) extend? Are you friends from school or any family relations?
All of us had played in bands together or on the same circuit for many years, and had already established strong friendships and similar musical tastes.
In your opinion, how is your band different from all the other bands out there?
Most alternative/heavy music these days is so serious and politically charged. While that's definitely not a band thing, it left us yearning for how music made us feel in our youth; it was fun, it was an escape. We strive to make our music and our live shows as fun as possible, so it's enjoyable even if it's not you're thing.
If a deaf person were to ask you to describe the sound of your music, how would you describe it?
Like being super happy and angry in equal measure, while at a really great party.
Where can we find your social media sites?
Facebook: ANewHopeUK
Instagram: @ANewHopeUK
Twitter: @ANewHopeBandUK
Youtube: ANewHopeUK