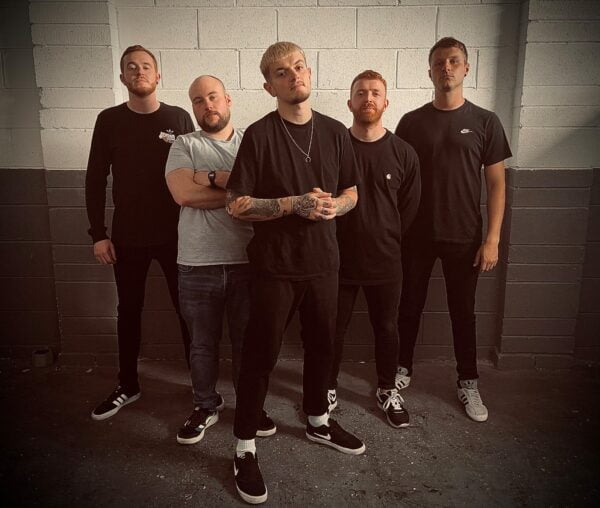 Brit metallers ARCHIVES unleash their alluring debut album, Decay, on Friday 10th December. Prior to this, the hefty quintet have just released their compelling new single, Eulogy.
Coming at you from Larne and Belfast in Northern Ireland and born in 2020, ARCHIVES feature Adam Holland (Vocals), Stewart Ferguson (Lead Guitar/Clean Vocals), Samuel Irwin (Rhythm Guitar), Paul Douglas (Bass), and Daryl Montgomery (Drums). By channeling a raft of robust influences from Architects and earlier Parkway Drive, through to August Burns Red, Fightstar, Killswitch Engage and Oceans Ate Alaska, ARCHIVES set out and deliver a manifesto for producing heavy and brutal music, spiked with genuine energy and melodic hooks. The fivesome have worked assiduously to accomplish their aim, and upon hearing the band's ferocious sound, you can immediately tell they have uncovered something genuinely exceptional.
ARCHIVES wasted no time in arranging for their debut album, spewing their heart and soul into its creation. Guitarist and clean vocalist Stewart Ferguson remarks: "The band began writing for the album during the first lockdown in 2020. The following January, we hit the studio to start recording with Josh at JSR Audio. The songs take inspiration from personal struggles, and the album has given us the platform to express this. The record is dedicated to anyone who is going through their own battles with mental health."
With a live set prepared and ready, and a roaring debut album in hand, the UK metalcorers are destined to be your favourite new band.
'Decay' album track listing: 1. Eulogy, 2. Blueprints, 3. Decay, 4. Unity, 5. Mindfield, 6. Holding on, 7. Parmaviolence, 8. Mapmaker, 9. Karoshi, 10. Fountayne Road.
https://www.facebook.com/ARCHIVESNI
https://www.instagram.com/archives_uk/