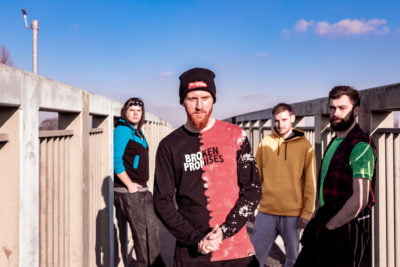 Rapidly rising Brit Nu-metalcore crew CROSTPATHS have just delivered their debut self-titled EP.  The alternative metallers have also just released a new video and single, Pariah, out now. Watch the video for the track, here – https://youtu.be/jLZRnoErRio . We sat down with the guys to find out more:
What is the full band line-up, who sings and who plays which instrument?
Ritchie Murray Jack (Lead Vocals) / Owain Lewis (Bass & Vocals) / Michael "Mikey" Edwards (Lead Guitars) / James "Mace" Mason (Drums).
How and when did the band form? Tell us anything interesting about your hometown.
The band formed in late 2018 off the back of 2 separate projects entering hiatus (Ritchie & Owain's former band Benzokayn and Mace & Mikey's other band Armatyle). Technically our hometown is Dartford, birthplace of Mick Jagger & Keith Richards.
When and how did the band really start gelling and solidifying?
All 4 of us had previously collaborated before deciding to start this band together. We held open discussions on our mutual vision late in the summer of 2018 and got straight into the studio to track demo ideas. We haven't looked back since!
Who are your musical influences?
Individually there are far too many mention, but as a collective we clearly wear mutual influences like Linkin Park and Papa Roach on our sleeve.
We're also very aware of the likes of Fever 333 and Skindred influencing our sound in various ways.
How far back does your history with each other (the band members) extend? Are you friends from school or any family relations?
As a quartet we have only known each other a couple of years, which have flown by, but at the same time it also feels as though we've known each other for as long as we can remember.
In your opinion, how is your band different from all the other bands out there?
We're all too aware that it's nigh on impossible to be 100% authentic when it's all been done before. Having that in mind keeps us motivated in the studio.
We are pretty confident that nobody else is combining the exact same elements with quite the same method as we do.
We've not had a definitive comparison to any other band yet, just multiple "you sound a bit like…" which also varies greatly depending on which song they're referring to.
We know we have a core heavy sound which we will build a live set around, but creatively we deliberately want to throw curve balls from time to time.
If a deaf person were to ask you to describe the sound of your music, how would you describe it?
Imagine watching an intense thriller at the cinema, except the cinema is also a gym and you're in beast mode.
Your blood is pumping, the adrenaline is rushing and there's just been a massive head fuck of a plot twist in the movie.
Where can we find your social media sites?
FACEBOOK – https://www.facebook.com/crostpaths
INSTAGRAM – https://www.instagram.com/crostpathsmusic
TWITTER – https://www.twitter.com/crostpaths