Masters of infernal metal since the dark days of the late '90s, Witchery have something special brewing for the year of our Lord, 2022. The Swedish legends' first (and probably only) concept album is due to be unleashed on July 22nd, and no one – alive or dead – is safe. 
Led by guitarists Jensen and Rickard Rimfält, Witchery has spent nearly three decades summoning heavy metal's demonic spirit. From the release of their classic debut "Restless & Dead" in 1998 onwards, they have continually upped the ante for hard, fast and malevolent music, always rooted in the filth and violence of thrash, but equally infused with the supernatural menace of Mercyful Fate and their blackened ilk. Across seven widely acclaimed studio albums, Witchery has plundered all manner of deviance and destruction, while an unassailable reputation as a savage and unrelenting live band has been earned with ease. From the genre-redefining ferocity of 1999's "Dead, Hot And Ready" to the muscular assaults of most recent efforts "In His Infernal Majesty's Service" (2016) and "I Am Legion" (2017), the band's explosive attempts to raise the undead never fail to deliver.
Fast forward to 2022, and Witchery are poised to release their most ambitious record yet. "Nightside" is a full-blown concept album, dealing with witches and witchfinders, curses and charms, and the overpowering stench of religious brutality. Both the most dramatic and dynamic Witchery album to date, and an album full of neck-wrecking anthems, "Nightside" delivers the goods, but with an evil twist.
"I like to write from the gut, and generally I want Witchery to be more instinctive. But I was just walking the dog and suddenly I had a story in my head," says Jensen. "The Salem, witch-burning thing is in there, but the story also has roots in Europe. This woman escapes to the colonies to flee the witchfinder and religious persecution. I've been a Pestilence fan forever, and their first album was "Malleus Maleficarum", and "The Hammer of the Witches", that's always lingered in my mind."
"Usually when you write an album, you do 14 songs and you just record them," he continues. "It's like chucking them at the wall and seeing what sticks, and whatever doesn't stick will be the extra tunes on the special edition! [Laughs] For a concept album, you need songs that fit with the lyrics and the mood, so it took a long time to fine-tune all the songs and make sure they all work. That's why there are no bonus tracks. There wasn't anything thrown at the wall that didn't stick!"
An album that ebbs and flows along with the peaks and valleys of its chief protagonist's fortunes, "Nightside" is also an album that delivers plenty of the punishing speed metal fury that Witchery are known for. The first single to be lifted from the record is "Popecrusher", an exhilarating chunk of grim and bloody thrash that is guaranteed to turn Witchery's live shows into a riot of violence.
"It's the first video, of course! "Popecrusher" is fast but it's super heavy at the same time. You just strike gold sometimes. For some reason, some songs write themselves. The best songs that I've written, personal favourites like "The Reaper" or "Dark Intentions" (by The Haunted), those songs write themselves and it doesn't take any effort. One riff just brings the next one forward. I was just sitting here playing the riff through my headphones and grinning, like 'I can't wait to play this live!'"
In contrast with certified Witchery face-rippers like "Popecrusher", "Churchburner" and the genuinely unhinged "A Forest of Burning Coffins", "Nightside"'s ominous, doom-laden title track provides the album with a suitably otherworldly and unnerving conclusion. For Jensen, the song represents a proud salute to one of the greatest bands of all time.
"I've always been a massive Priest fan, and on "Defenders of the Faith", the last song is "Heavy Duty/Defenders of the Faith"," Jensen states. "It's majestic and it's grand and it just keeps on going. I like songs and albums that have a long fade, because it feels like the circus is leaving town and you want to go with it, to see what happens. I wanted to make a song that had no recurring parts and lots of dynamics, too. There's even some whispered French on there! We've never done that before. It's all to mix things up a bit."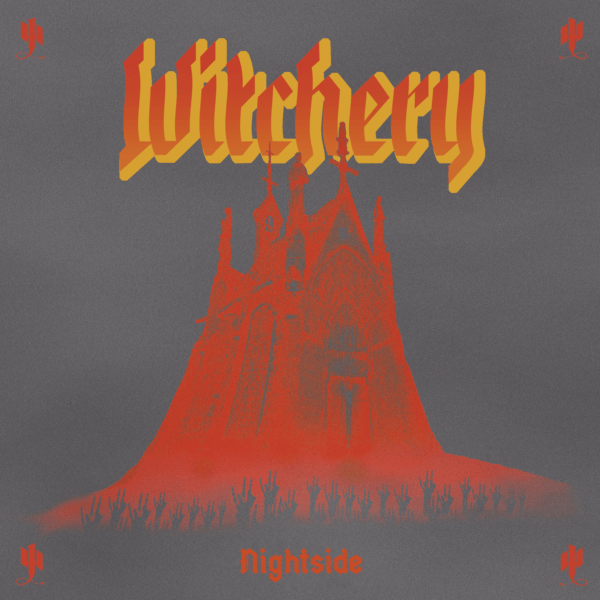 Meanwhile, "Nightside" marks the arrival of a new member to the band's esteemed line-up. Co-founding bassist Sharlee D'Angelo has departed, not least due to his duties with Arch Enemy, and regular live stand-in Victor Brandt has been officially inducted into the Devil's gang. As Jensen explains, the change of personnel was an easy transition to deal with.
"Sharlee is a great guy and one of my best friends, but he hasn't been able to do a lot of tours recently. So we now have Victor, who is also pretty busy with Dimmu Borgir, but he's keen and he recorded his parts and it sounds great. He kind of looks like Sharlee, too! [Laughs] He's filled in for Sharlee many times, and he's probably done more shows than Sharlee over the last ten years. It was mostly a formality, really. It was just time to put Victor's name on the albums. It's music and we're supposed to have fun, so there's no drama."
Along with the debut of their new bassist, "Nightside" features a host of revered special guests, all of whom make telling contributions to this masterful, hell-thrashing odyssey.
"Burning Coffins" features Jeff Walker, he's taking turns with our singer Angus. We always have Hank Shermann from Mercyful Fate on our records, because he was part of writing the greatest album ever recorded (which is "Don't Break the Oath" of course!), so he's on there too. Then we have Maciek Ofstad from Kvelertak and Simon Johansson from Wolf, who both do guest solos. Simon also owns the studio where we recorded the album, and he's a good friend. The assistant recording engineer was Mike Wead from King Diamond, and he's an old friend too. So it was a cool experience."
After a quarter of a century of gleeful grimness, Witchery is in blistering form and newly armed with the finest album of their careers. With plans to hit the road with a vengeance, the Swedes are clearly enjoying their journey through the darkness more than ever. A timeless horror story, set to some of the sharpest and spikiest metal anthems in recent memory, "Nightside" is heavy metal witchcraft at its best.

Line-Up:
Angus Norder – Vocals 
Jensen – Rhythm Guitars
Rickard Rimfält – Rhythm and Solo Guitars
Victor Brandt – Bass Guitar
Chris Barkensjö – Drums 

Discography:
Restless & Dead – 1998 (CMR Reissue 2020)           
Witchburner / EP – 1999 (CMR Reissue 2020)
Dead, Hot And Ready – 1999 (CMR Reissue 2020)    
Symphony For The Devil – 2001 (CMR Reissue 2020) 
Don't Fear The Reaper – 2006       
Witchkrieg – 2010
In His Infernal Majesty's Service – 2016
I Am Legion – 2017
Nightside – 2022 

Online:
www.facebook.com/officialwitchery