Earlier this week, the undisputed masters of blackened deathcore, CARNIFEX, announced their "Dead In My Arms" 15-year anniversary tour, with SPITE and OCEANO. What better way to celebrate the announcement and anniversary than to release a re-recorded version of the track "Lie To My Face" featuring Adam Warren of OCEANO!
Watch the video for "Lie To My Face", here:
Listen to "Lie To My Face", here: https://bfan.link/Carnifex-LieToMyFace2022
Scott Ian Lewis comments, "We couldn't be happier to be celebrating 15 years of Dead In My Arms with a special version of LTMF featuring our good friend Adam Warren of OCEANO. This new version is a thank you to the best fans in the world for keeping us alive all these years. Enjoy the song, see you on the DIMA 15-year anniversary tour!"
The song release comes alongside a merch collection celebrating 15 years of the debut LP Dead In My Arms, exhuming old designs and breathing new life into concepts from that era.

Every $20 spent on the CARNIFEX Indie Merchstore will earn one entry into a contest to win one of three prizes consisting of JBL Audio gear and credit for Indie Merch. A free entry can be earned by signing up for the band's email list. More info can be found at carnifexmetal.com.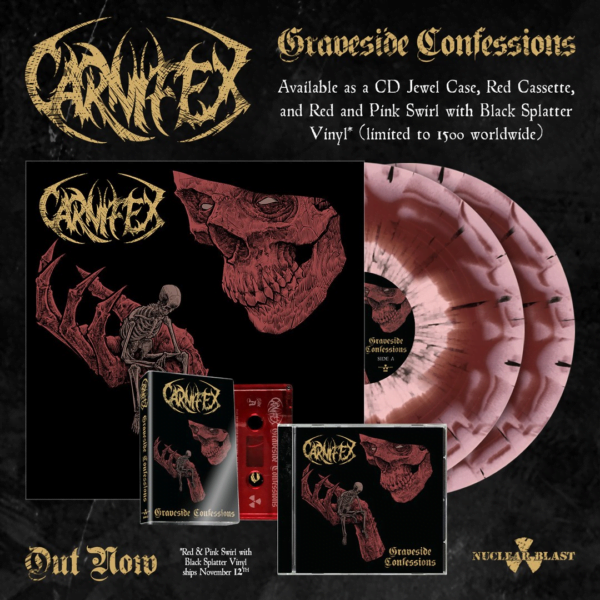 On September 23rd, CARNIFEX will kick off their 32-date US tour with SPITE and OCEANO. The trek will make stops in Denver, Cleveland, and Richmond before concluding at The Glasshouse in Pomona, California on October 26th. Opening the tour is LEFT TO SUFFER, and CROWN MAGENTAR. 

Tickets for the tour go on sale this Friday, July 15th at 10 AM local time at  carnifexmetal.com.

Confirmed dates for CARNFIEX'S "Dead In My Arms" 15 Year Anniversary Tour with SPITE, OCEANO, LEFT TO SUFFER, and CROWN MAGENTAR are:

09/23/2022  Strummers – Fresno, CA
09/24/2022  The Catalyst, Santa Cruz, CA
09/25/2022 Cornerstone – Berkeley. CA
09/26/2022  Cargo – Reno, NV
09/28/2022  Complex – Salt Lake City, UT
09/29/2022  Summit Music Hall – Denver, CO
09/30/2022  Black Sheep – Colorado Springs, CO
10/01/2022 Royal Grove – Lincoln, NE
10/02/2022 Wildwood Saloon – Iowa City, IA
10/04/2022  The Forge – Joliet, IL
10/05/2022  The Rave – Milwaukee, WI
10/06/2022 The Intersection – Grand Rapids, MI
10/07/2022  Pierre's – Fort Wayne, IN
10/08/2022 Beachland Ballroom, Cleveland, OH
10/10/2022  The Rec Room – Buffalo, NY
10/11/2022 The Lost Horizon – Syracuse, NY
10/12/2022 Jewel Nightclub – Manchester, NH
10/13/2022The Palladium – Worcester, MA
10/14/2022 Anchor Rock Club – Atlantic City, NJ
10/15/2022 Arties – Frenchtown, NJ
10/16/2022 The National – Richmond, VA
10/18/2022 Blind Tiger – Greensboro, NC
10/19/2022 The Concourse – Knoxville, TN
10/20/2022 Riverfront Live – Cincinnati, OH
10/21/2022 Pop's – Sauget, IL
10/22/2022 Whiskey Nights – Oklahoma City, OK
10/23/2022 Templelive – Wichita, KS
10/25/2022 Southside Music Hall – Dallas, TX
10/26/2022 Come & Take It Live – Austin, TX
10/27/2022 Rockhouse Bar & Grill – El Paso, TX
10/28/2022 Encore – Tucson, AZ
10/29/2022 The Glasshouse – Pomona, CA