Returning with the fifth full-length of their decimating career, there is no stopping the juggernaut that is WHITECHAPEL. Our Endless War is the culmination of everything the Knoxville, Tennessee sextet have worked toward since their inception. A ruthlessly honed album that refuses to compromise on brutality, it is also by far their most streamlined, atmospheric, and emotionally powerful release, pushing every aspect of their sound to the next level.
In conjunction with the release of Our Endless War, WHITECHAPEL have created an online contest with their new single "Mono". Vocalist Phil Bozeman has a video message for fans that are interested and would like to enter the contest, which can be viewed here:
The object of the contest is that fans will film themselves doing a vocal cover of the new song "Mono" and then upload their videos to YouTube. The contest ends April 21st and the winner will be announced on April 22nd  and will receive a grand prize package that consists of: 1 Deluxe CD Bundle of Our Endless War, a 30 minute vocal coaching lesson with Phil Bozeman via Skype and their video will be featured on Phil's YouTube Channel.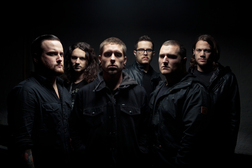 Our Endless War will be released April 28th in the UK via Metal Blade Records. Listen to the first two singles "Mono" and "The Saw is the Law" and pre-order Our Endless War in exclusive bundle packages at http://www.metalblade.com/whitechapel.
When it came to tracking the album the band considered no one beyond Mark Lewis, who helmedWhitechapel. For the artwork, the band turned again to Aaron Marsh, who suppliedWHITECHAPEL with its stark, arresting imagery, but again they wanted to push things to the next level. With the sound maturing the band felt like the artwork needed to reflect that. A new logo was introduced (the old logo is classic Whitechapel, and that's not something the band plans on getting rid of) however as the band grows and changes they felt like they needed the logo to represent the maturity of WHITECHAPEL.
Leading up to the release of Our Endless War, WHITECHAPEL have confirmed a string of dates including an appearance at this year's New England Metal & Hardcore Festival. These dates will being April 16th in Columbus, OH and run through April 27th in Birmingham, AL. These shows feature support from Carnifex, Within the Ruins and Cruelhand. More dates including a North American co-headlining North American tour are in the works and will be announced shortly.
Our Endless War track listing:

01. Rise
02. Our Endless War
03. The Saw is the Law
04. Mono
05. Let Me Burn
06. Worship the Digital Age
07. How Times Have Changed
08. Psychopathy
09. Blacked Out
10. Diggs Road
11. A Process So Familiar (Bonus Track)
12. Fall of the Hypocrites (Bonus Track)
WHITECHAPEL w/ Carnifex, Within the Ruins, Cruel Hand
04/16 Columbus, OH The Basement
04/17 Buffalo, NY Waiting Room
04/18 Worcester, MA The Palladium New England Metal and Hardcore Festival
04/19 Lancaster, PA Chameleon Club
04/20 Poughkeepsie, NY The Chance Theater Eat Your Heart Out Festival
04/22 Greensboro, NC Greene Street Club
04/23 Columbia, SC New Brookland Tavern
04/24 Jacksonville, FL Roc Bar
04/25 Tampa, FL The Orpheum
04/27 Birmingham, AL Zydeco

End Tour
05/03 Zapopan, MX Calle 2 Pabellon B
05/04 Monterey, MX Cafe Iguana
05/05 Mexico City, MX El Plaza Condesa w/ Behemoth
For More Info Visit:
http://www.whitechapelband.com
http://www.metalblade.com/whitechapel
http://www.facebook.com/whitechapelmetal
https://twitter.com/whitechapelband
http://instagram.com/whitechapelband
http://www.youtube.com/user/WhitechapelTV
http://www.metalblade.com